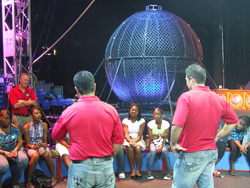 We wanted to develop and implement a program that had a positive and meaningful community impact
Brooklyn, NY (PRWEB) August 13, 2009
It's the ultimate summer job: running away and joining the circus.
For a group of 20 lucky young men and women in Brooklyn, though, the Ringling Bros. and Barnum & Bailey (http://www.ringling.com/coneyisland) Summer Youth Academy is far more than just a summer job. It's an opportunity to gain fundamental business skills, network with potential future employers and help the local community - all while adding The Greatest Show On Earth to their resumes.
"We wanted to develop and implement a program that had a positive and meaningful community impact," said Stephen C. Yaros, Feld Entertainment's VP of Event Marketing and Sales, Northeast Region. "It's one thing to come into a town for a few days, perform a few shows and move on, but Ringling Bros. and Barnum & Bailey has been part of the New York landscape for 139 years, and The Coney Island BOOM A RING is performing on the boardwalk for the entire summer - the first of what we hope will be many summers to come. We don't want to just entertain the Coney Island community, we want to be a full and constructive member of the community -- and a contributor to its future."
To that end, the eight-week Summer Youth Academy program was developed in partnership with Urban Neighborhood Services, which was founded in 2004 by 25-year Coney Island resident Mathylde Frontus. As their Web site explains, the non-profit organization "was conceived by the founder as a vehicle to effect positive change and address social needs in the community, which had been historically under-served. In 2005, UNS began offering a variety of educational programming on topics such as health, personal fitness, educational achievement and police-community relations, among other relevant subjects."
The Ringling Bros. and Barnum & Bailey Summer Youth Academy runs Monday through Wednesday for eight weeks (graduation will take place on August 26) and is designed to provide participants with a variety of learning opportunities in hospitality, tourism and entertainment as well as guidance in the basic skills of research, writing resumes, business letters, and more.
For example, participants spend time speaking with community leaders, serving as representatives of The Coney Island BOOM A RING and distributing 50,000 passes to the show to lower-income members of the community. Each redeemed pass results in a $.50 donation to Urban Neighborhood Services, which in turn can receive as much as $25,000 from this one aspect of the Academy.
For another example, students received the rare opportunity to meet and question performers and behind-the-scenes personnel of The Greatest Show On Earth. This provided them with unique insights into life on the road, with the intention to inspire each student to follow their own unique paths to success and greatness.
"I had a great time speaking with the kids," said Erwin Urias, who rides a customized 100-cc motorcycle at speeds up to 60 mph inside a 16-foot-wide steel globe, "and they had a lot of insightful questions. What I found really interesting was their curiosity about the schooling we have for our own kids as we travel. I think they could really relate to the fact that no matter what your choice of job, you need the best education possible to be the very best you can be."
"There's no question in my mind that the Summer Youth Academy was a huge success," said Yaros. "I think these kids will leave their two months at The Greatest Show On Earth with memories and skills they'll carry with them for their entire lives."
ABOUT THE CONEY ISLAND BOOM A RING
The Greatest Show On Earth® hits the boardwalk this summer for the very first time in its 139-year history! Ringling Bros. and Barnum & Bailey® presents THE CONEY ISLAND BOOM A RING, an action-packed seaside circus spectacular in which the energy bursts out of the ring, into the audience and ricochets back to electrify the Ringling Bros.® performers. Circus-goers will enjoy an up-close and personal experience in a comfortable air-conditioned tent featuring beautiful white tigers, majestic Asian elephants and thrilling acrobats from around the world. THE CONEY ISLAND BOOM A RING action bounces from one high-energy act to the next, featuring a daring crossbow demonstration that takes archery to new extremes, a globe of steel in which whizzing motorcyclists orbit at speeds of 65 miles an hour and a gravity-defying performance on the whirling Wheel of Steel. The circus is a cornerstone of the New York City summer and THE CONEY ISLAND BOOM A RING is a one-of-a-kind experience that will engage all the senses while providing Children Of All Ages with a day at The Greatest Show On Earth they never imagined possible! For more information visit: http://www.Ringling.com/ConeyIsland and follow us on Facebook (http://www.facebook.com/pages/Ringling-Coney-Island/88677062471) and on Twitter (http://www.twitter.com/rbbbconeyilsand).
###