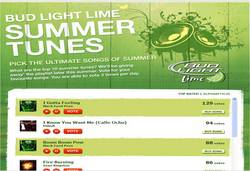 Bud Light Lime is a social brand; it's about being active and engaged, and we felt that a summer promotion tied to music was a perfect way to convey this.
Toronto, CA (PRWEB) August 13, 2009
To reward Facebook fans who petitioned to bring Bud Light Lime to Canada - making it an instant hit since its debut in May - the brand has launched the Bud Light Lime Summer Music promotion. This interactive giveaway provides loyal fans with the chance to win a Puretracks promo code for the top 10 songs selected by Facebook fans.
The Bud Light Lime Summer Music promotion, developed by Toronto-based agency Grip Limited and supported by North American Music Provider Puretracks, kicked off on July 27, when Facebook fans were invited to suggest their three favourite songs of the summer. From now until August 21, members have the opportunity to select their 10 favourite songs based on a compiled list of 19 fan song suggestions. At the end of the voting period, more than 100,000 Bud Light Lime Facebook fans will have a chance to claim one of 4,000 10-song music codes up for grabs.
"We wanted to do something to give back to fans who've made Bud Light Lime such a huge success in Canada," said David Nicholls, Brand Manager for Bud Light Lime in Canada. "Bud Light Lime is a social brand; it's about being active and engaged, and we felt that a summer promotion tied to music was a perfect way to convey this."
On August 24, Bud Light Lime will post a list of the top 10 songs chosen and, over the next four weeks, the first 1,000 fans to log on to the Bud Light Lime Facebook fan page each week will receive a promo code to claim the top tracks of the summer. Those who don't receive a music code will have the opportunity to purchase the tracks directly from the Puretracks store.
"We're having fun with this promotion and are excited by the participation we've had so far," said Nicholls. "People feel very connected to the Bud Light Lime brand and we value the direct interaction with them."
Want to participate in the promotion, but not a Bud Light Lime Canada Facebook fan? Don't worry, it's not too late! Beer fans can still join the Bud Light Lime Canada fan page for a chance to receive the best tracks of the summer.
About Bud Light Lime
With the refreshing taste of Bud Light and a twist of 100 per cent natural lime flavour, Bud Light Lime is the perfect beer to enjoy with friends this summer. Regardless of the occasion, Bud Light Lime offers a convenient lime flavour without the extra squeeze and is sure to refresh the taste buds of beer drinkers across the country.
About Grip Limited
Founded in 2002, Grip Limited is a fully integrated communications agency located in Toronto. Interactive, Design, Traditional Advertising, Collateral, Promotion and Studio services are all provided in house. In a short seven years, Grip has gone from eight to over 90 employees and continues to build a list of blue chip clients including; Allergan, Cadbury, Expedia, Honda, Hotels.ca, Labatt Breweries of Canada, Certified General Accountants, Proctor & Gamble Pharmaceutical and Yard Sale For The Cure. Built on the principles of True Integration, Transparency and Trust, Grip has established itself as one of the pre-eminent agencies in the communications industry.
About Puretracks
Puretracks, a subsidiary of Somerset Entertainment Income Fund, is a North American digital music service provider offering a comprehensive suite of solutions for the brands, agencies, retailers and media companies it serves --including branded digital entertainment stores, customized promotions, album card redemption platforms, web services and affiliate programs. The Puretracks music store is one of the largest digital music download stores in North America, offering more than three million tracks from top mainstream and indie artists across a complete range of genres. Puretracks is based in Toronto, Ontario, Canada. For more information, visit http://corporate.puretracks.com
###