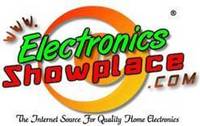 The bottom line matters to our customers, which is why they shop with us
Burlington, KY (PRWEB) August 17, 2009
Effective immediately, Electronics Showplace.com is eliminating restocking fees on returns, giving customers greater freedom to benefit from the thousands of discounts on its web site.
"We know the tight economy is affecting our customers, and we wanted to give them the extra assurance that buying from Electronics Showplace is the best bargain available," said Donna Jackson of Electronics Showplace.com. "Not only will they save when buying our heavily discounted electronics, but they also can be assured that they won't risk a restocking fee if a product needs to be returned."
Electronics Showplace.com offers thousands of products in nearly 70 categories including discount computer electronics, home and portable audio products, discount cables, networking and network appliances, and video game hardware and software.
The elimination of restocking fee is the latest step taken by Electronics Showplace.com to make its web site the premiere destination for shoppers who want home and office electronics and more.
"The bottom line matters to our customers, which is why they shop with us," said Jackson. "We take every step we can to ensure that our customers have access to hundreds of products, at a good price, when they come to our web site."
About ElectronicsShowplace.com
ElectronicsShowplace.com has been in the e-commerce industry since 2005, offering deeply discounted consumer electronics from hundreds of different manufacturers to both businesses and the general public. Products range from discount computer electronics to discount office supplies to discount portable audio equipment and small home and office appliances. Customer service is a priority at ElectronicsShowplace.com. For more information, contact us at http://www.ElectronicsShowplace.com.
# # #