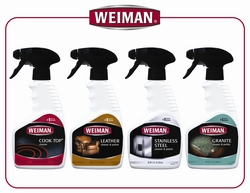 Chicago, IL (Vocus) August 14, 2009
Energized by increased distribution, several successful product launches and a fresh new logo, Weiman Products, manufacturers of Weiman® Premium Surface Care Products, emerges as a key player in the specialty home care/cleaning products category. In mid-August 2009, Weiman Products will hit shelves featuring bold new packaging and a modernized logo – results of an overall marketing strategy to increase brand awareness while emphasizing product functionality and Weiman's top-quality positioning in the marketplace.
This month, 1,700 Wal-Mart stores will add eight new Weiman items to their shelves, in addition to the nine Weiman items that Wal-Mart currently stocks. Through a strong partnership with Wal-Mart and over thirty items in distribution at major retailers nationwide, Weiman finds itself in a powerful position for continued growth as the market leader in specialty surface cleaning and care.
With a focus on growing its product portfolio of cleaners and wipes for premium surfaces, Weiman recently introduced four new trigger spray products that clean, shine and protect glass cook tops, stainless steel, granite and leather. Also new to Weiman's thriving product line are Weiman Floor Cleaner and Weiman Floor Polish, a powerful duo that comprises a complete, eco-friendly floor care system. Both products carry the US EPA's Design for the Environment (DfE) seal which recognizes companies that integrate environmental considerations into their products.
The Weiman brand began with a single bottle of furniture polish in 1946, which quickly became the product of choice for fine wood furniture. Weiman gained national exposure in 1990 with the launch of Weiman Glass Cook Top Cleaner, the #1 brand of cook top cleaner. Weiman took center stage in the early 2000's after introducing and expanding its successful line of home care wipes. Today, Weiman offers a diverse product portfolio of niche products that clean, shine and protect premium surfaces throughout the home.
Weiman Products:
Weiman Products, LLC manufactures and markets premium cleaning and polishing products for specialty surfaces throughout the home. Weiman brands include: Weiman® Premium Surface Care Products and Wright's® Metal Care Products. Weiman products are available nationwide at mass retailers including Wal-Mart & Target, grocery stores, hardware stores and specialty retail outlets. Products are also available online at http://www.weiman.com.
###