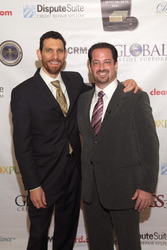 RIDE THE WAVE: How to Make it Big in Credit Repair.
Tampa, FL (PRWEB) August 14, 2009
Internationally recognized marketing genius Jon Goldman is teaming up with Credit Repair Industry Veteran Mike Citron to provide a hands on Live conference call to share the secrets of marketing a successful credit repair business. How to start a credit repair business without this information would be a mystery.
For many people, the economic situation has been a disaster. Many former auto workers, loan officers and stockbrokers are spending plenty of time on Monster.com these days looking for a new job.
But for some industries, the current economy spells the biggest opportunity in decades.
Some industries including the credit repair, credit services and credit restoration industries. These industries are flourishing in these turbulent times.
Those who are lucky enough to be in this industry have one of the most amazing opportunities available as a home based and or self employed position. Some of these great opportunities include:

the chance to own your own business, be your own boss, and make your own decisions…
the chance to make serious money, earn unlimited income, and gain financial freedom …
the chance to use your skills to help people in financial distress repair their tattered credit, get back on their feet, and start living again…
There is a wave of opportunity for those in the credit service profession. The need for credit repair services in today's economy is COLOSSAL. And it's growing!
The wave is here, and those who are taking advantage of it can make it big. Anyone who is considering entering this highly lucrative field should consider
Is my marketing working? Do I have a massive flow of qualified leads?
Is my brand powerful? Is my website fresh and exciting? Is my offer irresistible?
Do I have a steady stream of referrals coming from affiliate partners?
The backbone of a credit repair business is making sure that you can effectively raise your clients' credit scores - and for that, you need the right skills, the right technology tools like Credit Repair Software, and the right amount of persistence.
But equally important is Credit Repair Marketing. Marketing is where the knowledge is matched with people who NEED what you know. Marketing is how to "catch the wave" and fill businesses with eager, qualified clients.
And most importantly, marketing is how to pay the bills. That's why Mike Citron is so excited to team up with Jon Goldman, a master of marketing with deep insight into how to find the right brand, the right offer, and the right prospects. Jon is a creative genius, a business fixer, and a friend of mine. John and Mike are hosting a Free Webinar for anyone in the credit repair industry or anyone thinking of diving into this lucrative business
We'll be having a joint webinar called "RIDE THE WAVE: How to Make it Big in Credit Repair."
This exclusive webinar will be on August 20th, at 3:00pm EST and it is FREE to attend.
To Register for the seminar simply go to: http://www.brandlauncher.com/mikecitron
Jon Goldman is president of Brand Launcher and he has nearly two decades of experience in the marketing world creating and overhauling marketing messages and campaigns. Jon can spot the holes in your bucket, fix them, and help you fill that bucket better and faster than anyone I know.
Here are 6 powerful reasons why anyone considering this business cannot miss this exciting live webinar:
1. Find out what's working and what's not in credit repair marketing
2. Llearn how to harness the power of social media like YouTube and Facebook in your marketing
3. Discover how to stand out from your competition and dominate your local area
4. See out-of-the-box promotional ideas that will get anyone's attention
5. Find out the best way to approach other local businesses for profitable affiliate relationships
6. Llearn about the worst mistake most businesses make in their marketing - and how to avoid it
Jon's presentation at the Credit Repair Boot Camp was a smash hit. Now it time for everyone in this industry to find out how to boost lead generation, increase sales, and pump up profits… for FREE!
Here are the details:

What: FREE Webinar: "RIDE THE WAVE" with Jon Goldman and Mike Citron
When: August 20, 2009 at 3:00pm Eastern Time
Where: Register For Free Here
Don't miss this opportunity to "ride the wave" for FREE. Join me for this webinar with Jon Goldman by registering here.
Remember- Some of Jon's strategies are deceptively simple… but they could be worth tens of thousands of dollars to you when you implement them in your own credit repair business. Don't miss out - register for the Webinar here.
# # #