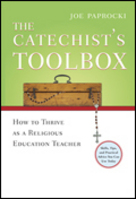 Chicago (Vocus) August 13, 2009
Joe Paprocki, an 8th-grade catechist and National Consultant for Faith Formation at Loyola Press, has seen thousands of copies of his book The Catechist's Toolbox make their way into catechists' hands around the country. Now, for the first time, Loyola Press will offer the essence of this best-selling book by means of a free Webinar -- Getting Started as a Catechist: Welcome to the Catechist's Toolbox.
Since roughly one-third of the nearly 500,000 catechists are new to the job each year, the timing and content of this Webinar could not be more perfect. With most new catechetical classes beginning within the next six weeks, there will be plenty of religious-education instructors new to the job and needing some basic training in how to be successful catechists. In fact, demand for Paprocki's upcoming Webinar has been so high that, in addition to the already-full two-part Webinar scheduled for August 19 and 26, a second two-part Webinar (identical to the first) has been added for August 20 and 27.
Paprocki, an engaging, humorous, and highly knowledgeable speaker, will use this Webinar to address key issues he knows are close to every catechist's heart. "Becoming a catechist is exciting, and, let's face it, somewhat intimidating. This Webinar will provide catechists, both those who are new and those who simply want to refresh their skills, with the tools they need to effectively engage kids and adults in faith formation," says Paprocki. Some of the topics covered are lesson planning and preparation; the role of discipline; how to polish your technique; plugging into the power of prayer; and 10 things every catechist can do NOW to become instantly effective in the classroom.
In addition to his book The Catechist's Toolbox, Joe Paprocki, DMin, is the author of A Well-Built Faith: A Catholic's Guide to Knowing and Sharing What We Believe and The Bible Blueprint: A Catholic's Guide to Understanding and Embracing God's Word. He is also the host of the blog Catechist's Journey.
###