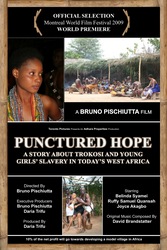 Toronto, Canada (PRWEB) August 13, 2009
Toronto Pictures (OTC: TTOPF) and Adhara Properties are proud to announce that the feature film PUNCTURED HOPE: A STORY ABOUT TROKOSI AND YOUNG GIRLS' SLAVERY IN TODAY'S WEST AFRICA, directed by internationally acclaimed Film Author, Bruno Pischiutta, has been selected for 'Focus on World Cinema' at the Montreal World Film Festival (August 27 - September 7, 2009).
PUNCTURED HOPE (Feature Film, 35 mm, 91 min.) is based on a true story. The story takes place in today's Ghana. According to the TROKOSI customary practice, if someone commits a crime, traditional leaders order that a young girl from that family be sent to the shrine as a form of atonement. The chief priest and his entourage genitally mutilate and sexually abuse the girls. Against all odds, the protagonist of the story escapes the shrine. As the film follows her life from the age of innocence to premature adulthood, the viewers get to see a beautiful showcase of the real and very animated African life in a typical village.
PUNCTURED HOPE will have its WORLD PREMIERE at the Festival. Worldwide distribution rights are available (except USA and Canada).
Director Bruno Pischiutta and Executive Producer Daria Trifu will be attending the festival from August 27 to September 7.
VIDEO CLIPS: Few clips from PUNCTURED HOPE are available on YouTube at: http://www.youtube.com/watch?v=-uZGJmZtMiE
The Montreal World Film Festival is considered the largest fully independent film festival in the world and each year over 400,000 international film executives, members of the press and general public are in attendance.
Bruno Pischiutta is an award winning screenwriter, director, producer, editor and actor who has proven to be a prodigy since his childhood in Italy. A partial snapshot of his body of work to date includes numerous feature-length films and documentaries, as well as made-for-television features, half-hour series and musicals. Pischiutta has produced work in North America, Europe and most recently in West Africa, where he just completed directing his latest feature film entitled "Punctured Hope".
Pischiutta casts both professional actors and common people from all walks of life to portray his films' characters.
Like Luis Buñuel, his directing style is extremely economical. He shoots films in a few weeks, never deviating from his script.
Like Costa Gavras, it becomes clear that he does in fact have a personal agenda, one that has met with much controversy. This sort of direct challenge makes him both disliked and loved, depending on his stance on any given issue. Pischiutta believes that moviemakers have a tremendous opportunity of communicating their message directly to the brains and to the hearts of millions of people. To begin with, they have two hours of the viewers' focused attention when the movie is shown in theatres as well as, later, when the movie is then broadcast on TV and when it becomes available on DVD. His feature films mainly explore the medical conditions that develop as a result of issues that are left untreated within the social context, such as bulimia, depression, use and abuse of antidepressant drugs, teenage suicide, use of steroids and illegal drugs. Through his films, Pischiutta chooses to fight intellectual pollution by educating the viewers on the major issues of our time with entertaining stories that, hopefully, will become a part of their lives and will stay with them forever. Like Ingmar Bergman, his films usually deal with the existential questions of mortality and loneliness. His female characters are usually more in touch with their sexuality than the men and he wants audiences to feel, to sense, his films.
Like Michelangelo Antonioni, his perspective of the world is that of a post-religious and existentialist intellectual. His films are meant to capture the attention of today's viewers, while offering them entertaining experiences based on their creative content and exceptional storytelling.
Like Charlie Chaplin, he built his own studio, Toronto Pictures, to gain complete control of his film production.
Bruno Pischiutta is the passionate founder, President and CEO of Toronto Pictures. His vision and inexhaustible energy have guided the enterprise through its lean and leaner times to its current status as a publicly traded company bursting in all directions with creative and business success.
Toronto Pictures' commitment to social responsibility has been a key factor and a reason for choosing to produce each and every one of the company's films.
The company is donating 10% of the net proceeds of "Punctured Hope" to Kpobikofe, the African village where most of the film was shot. Toronto Pictures' goals include the construction of a school staffed with a full-time teacher, the construction of a small hospital with a full-time doctor and nurses and the development of a utilities infrastructure enabling residents to access power and clean, safe water.
CONTACT:
International Film Sales Agents and Media can contact Daria Trifu at:
corporate(at)filmail(dot)com OR (1) 416-303-0226.
TORONTO PICTURES (OTC Stock Symbol: TTOPF) WEBSITE: http://torontopictures.ning.com
ARTICLE "BRUNO PISCHIUTTA, FILM AUTHOR": http://www.ninemeridians.com.au/wp-content/uploads/2009/07/connections-august-09.pdf
DARIA! MAGAZINE: http://www.dariamagazine.com
TORONTO PICTURES ON YOUTUBE: http://www.youtube.com/TorontoPictures
TORONTO PICTURES ON TWITTER: http://twitter.com/TorPix
BRUNO PISCHIUTTA IMDb: http://www.imdb.com/name/nm0994395/
DARIA TRIFU IMDb: http://www.imdb.com/name/nm1819138/
###