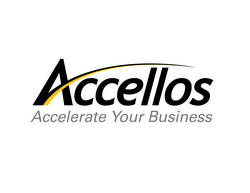 Our goal is to provide a rich feature set for the warehouse that extends the base capabilities of Sage Accpac ERP
Colorado Springs, Colorado (Vocus) August 14, 2009
Accellos, a leading provider of supply chain execution software solutions, has released a new integration between Sage Accpac ERP version 5.5 and its Warehouse Suite by Accellos. The new product leverages Accellos' services-based integration framework to provide a more robust product for Sage Accpac users.
The integration makes the following features available to the Sage Accpac 5.5 user:

Seamless downloads of Sage Accpac purchase and sales orders from the native Sage Accpac ERP functionality to the warehouse system
Support for multi-location serialized and lot-tracked inventory, and customer/vendor returns
Developed using the extensible Accellos Integration Framework allowing the user or partner to customize the information flowing between Sage Accpac ERP 5.5 and the Warehouse Suite by Accellos
"Our goal is to provide a rich feature set for the warehouse that extends the base capabilities of Sage Accpac ERP," said Ross Elliott, Accellos Chief Technology Officer. "The solution is designed to scale from a first-time warehouse user to a highly sophisticated operation leveraging the latest in warehouse automation equipment. The new Sage Accpac integration provides the seamless experience and extensibility that the customer should expect from Accellos. They can reduce their total cost of ownership with the confidence that their warehouse management system will continue to improve alongside their Sage Accpac ERP system."
According to Elliott, "Accellos' new integration framework also provides a real competitive advantage for Sage partners. It offers a comprehensive API for developers and a wide variety of tools and configurations for consultants and installers. Most importantly, the framework gives customers peace of mind that their warehouse and back-office are working as a unit."
Accellos is a Sage Business Solutions Endorsed Development Partner and Warehouse Suite by Accellos is a recommended solution for Sage Accpac ERP. Warehouse Suite by Accellos is a fully integrated suite of products aimed at increasing the productivity, efficiency, and visibility of activities that take place in a company's warehouse and distribution operations. Seamlessly integrated with Sage Accpac ERP, Warehouse Suite by Accellos provides rapid ROI for companies with up to several hundred warehouse workers.
"As an important member of our development partner ecosystem, Accellos provides more than just needed functionality in the warehouse for Sage Accpac users," said Alan Bryant, Sage Senior Vice President, ISV Programs and Developer Relations. "More importantly, Accellos is adding true value to our Sage business solutions, helping Sage deliver an extraordinary customer experience."
About Sage Business Solutions Development Partner Program
The Sage Business Solutions (SBS) Development Partner Program is designed to help ISVs (Independent Software Vendors) successfully develop, test and market applications that enhance and extend the functionality of Sage's business management software solutions. The program provides extensive development resources, technical services, strategic product and marketing benefits that help maximize Development Partner revenue opportunities. Endorsed Development Partners, the highest achievable designation in the program, receive the greatest benefits including the exclusive distribution of Endorsed Solutions by Sage. For more information on the SBS Development Partner Program, please visit
http://www.sagenorthamerica.com/partners/development_partners/sage_erp_crm_solutions
About Accellos
Accellos, headquartered in Colorado Springs, Colorado, is a global provider of logistics, warehouse, third-party logistics, transportation and mobile fleet management software solutions. The company addresses the supply chain management and execution market with warehouse management systems for multiple environments, including transportation management software and in-field mobile resource management solutions. Accellos' powerful supply chain execution solutions are easy to customize and implement, providing customers with more innovation for less investment. For more information, email info at accellos dot com or visit http://www.accellos.com.
Media Contact:
Matthew Turner
VP Marketing, Accellos, Inc.
T: 719-433-7024
# # #