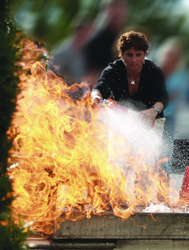 Olympia, WA (PRWEB) August 13, 2009
FACTS Training, a division of AirCare Solutions Group, has created a customized training program designed to assist corporate flight departments in meeting full compliance with the International Standard for Business Aircraft Operations (IS-BAO).
IS-BAO was developed by the International Business Aviation Council as a voluntary process for corporate flight departments to achieve high levels of safety and professionalism through adoption of institutionalized best practices worldwide. Through conformance, it sets a professional standard for new business jet operations and raises the safety bar for existing flight departments.
As a supporter of standardized best practices, Dr. Doug Mykol, CEO of AirCare Solutions Group notes, "Meeting IS-BAO guidelines brings a systematic means of capturing best practices and making them available to the industry as a whole. FACTS IS-BAO ASSET Training offers an intensive one-day program designed to address a flight department's IS-BAO-specific training needs, utilizing proven FACTS procedures."
FACTS IS-BAO Emergency Training is a combination of classroom instruction and hands-on practice with emergency equipment. Training is conducted at the flight department's facility, offering a time-efficient and a cost-effective alternative to offsite training.
In addition to aircraft-specific emergency equipment familiarization, training meets IS-BAO guidelines, covering: Human Factors and Crew Resource Management, InFlight Fire and Smoke Procedures, Emergency Egress Training (Land & Water), Hypoxia Awareness Training, Crew and Passenger Briefings and a review of Passenger/Crew Health Issues.
For further information on FACTS Training, call 360/754-9805 or visit the website: http://www.factstraining.com .
###