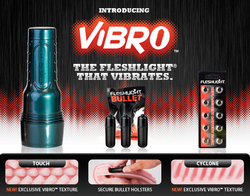 We have engineered a way to keep all of the strengths of the existing Fleshlight®, while offering variable levels of vibrational sensation. The Fleshlight Vibro™ is just as easy to clean, is completely waterproof, and very quiet while in use
Austin, TX (PRWEB) August 13, 2009
Fleshlight Inc, exclusive manufacturers of the best selling male sex toy, the Fleshlight®, announced today the release of its first ever line of vibrating Fleshlights®, Fleshlight Vibro™. This long anticipated release comes in response to countless requests from customers to add this additional layer of tactile stimulation to the unit. "We have engineered a way to keep all of the strengths of the existing Fleshlight®, while offering variable levels of vibrational sensation. The Fleshlight Vibro™ is just as easy to clean, is completely waterproof, and very quiet while in use," commented CEO and Founder Steve Shubin.
Each Fleshlight Vibro™ will be sold with 3 vibrating bullets, which can be placed inside custom holsters on the face of the unit for varying levels of intensity. In addition, 10 replacement batteries will be included to boost the total battery life of the bullets for up to 13 hours. The Fleshlight Vibro™ will initially be available in two orifice choices, 'Butt' and 'Lady', and will include 2 completely new custom internal textures, 'Touch' and 'Cyclone', in addition to the original smooth texture. Commenting on the new textures, Steve Shubin added, "Though the new textures were designed to capitalize on the enhancement offered by vibration, even without any added stimulation they are two of our most unique and highly pleasurable designs."
Fleshlight® expects this to be its largest product release in years, and had been steadily building up inventory for the first initial rush of orders. Vibro™ is on sale to consumers now, and retailers August 15th.
About Fleshlight :

Founded in 1995, Fleshlight® (ILF Inc) is the exclusive manufacturer of the #1 selling male sex toy in the world, the Fleshlight®. The Fleshlight® is aptly named because of the patented Real Feel Superskin™ flesh-like sleeve housed in the discreet and durable outer shell designed to look like an ordinary flashlight. With over 2 million units sold, Fleshlight® continues to challenge the perceptions and stigmas surrounding male sexuality and masturbation, in hopes that doing so can promote the free-thinking approaches necessary to deal with the sexually rooted challenges of disease, unwanted pregnancy, and abuse that affect our society at large.
Contact:
Daniel Pacheco
512 879 4194
Director of Relations
Fleshlight Inc,
512-879-4194
###