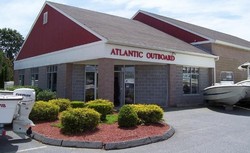 We've selected our lines carefully
Westbrook, CT (PRWEB) August 13, 2009
Atlantic Outboard, the northeast's largest volume dealer of fishing boats, was recently recognized as the nation's second-largest Hydra-Sports vendor--no small achievement, given the sheer number of dealerships carrying that line of highly popular fishing platforms across the country. In fact, this marks the first time a northeast dealership has ever ranked in the top two, nationally, for Hydra-Sports sales.
Hydra-Sports is one of a half-dozen top fishing boat brands carried by the Westbrook, CT-based dealership. Others in the Atlantic Outboard line are Eastern Boats, Southport Boatworks, Sea Fox, Maritime, Carolina Skiff and May Craft.
"We've selected our lines carefully," says Atlantic Outboard President, Paul Cusson, "to meet the exacting standards of a diverse customer base. Each boat line is ideally suited to the rigors of New England fishing, built to give our angling customers the ability to target fish with utmost efficiency. We're proud--not necessarily surprised--to have been recognized for our work with Hydra-Sports."
Randy Jernigan, Regional Sales Manager for Hydra-Sports, said, "Atlantic Outboard is one of Hydra-Sports top performing dealers because their team is focused almost entirely on fishing boats. Paul has continually gained sales in his market through hard work and consistent understanding of the market."
For more information visit Atlantic Outboard Hydra-Sports website. We are located at: 475 Boston Post Rd. Westbrook, CT 06498
###