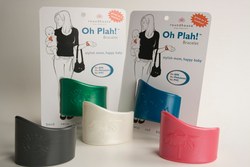 We understand that moms want to be fashion forward
Deep River, Conn. (Vocus) August 13, 2009
On the heels of a successful showing at ENK Children's Club, Roundhouse Design Collaborative will introduce an innovative gift idea and debut the latest color offerings of Oh Plah! teething bracelet at the New York International Gift Fair in New York City, August 16-20, 2009. The stylish and eco-friendly bracelet that is both an accessory for mom and a teether toy for baby will now be available in clover green, hot pink, pearlescent white, peacock blue and pewter grey. Retail buyers and press can stop by booth no. 1202/1204 for a preview of the Oh Plah!™ collection, which retails from $19.99 to $24.99 each.
"We understand that moms want to be fashion forward," noted co-designer Caryn Paradis. "Our new colors are based on the latest trends coming off the runway so moms can keep their sense of style while simultaneously caring for their child with the Oh Plah! bracelet. Now, instead of handing your baby a set of pointy metal keys or a germ-covered cell phone when they're restless or cranky, moms can give them their bracelet."
Roundhouse Design also practices a closed loop cycle with its Full Circle Recycling program: When it's time, Roundhouse will pay to have your Oh Plah!™ shipped back to have it recycled into new products.
Named for the French term, "Here you go," Oh Plah!™ was co-designed by Caryn Paradis and Jen Pitman, who want to freshen up the teething toy offerings with a safe, stylish products. All Oh Plah!™ bracelets are free of paints, lead, latex, PVC, BPA and phthalates, and are made in the USA using socially responsible practices. For more information, please visit OhPlah!™ online at http://www.ohplah.com.
CONTACT:
Sarah Wadle
Phone: 860-581-4594
ChicExecs PR is an "out of the box" PR company which represents over 70 clients. ChicExecs has created an innovative approach to PR dedicated to helping small-medium business receive media coverage. Our revolutionary automated system is changing the face of PR. For more information vist http://www.chicexecs.com.
# # #