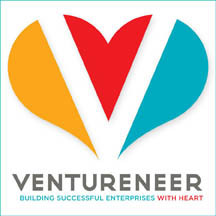 What Every Entrepreneur Needs to Know About Social Media Marketing Today
New York, NY (Vocus) August 13, 2009
Do virtual friends have value? Some small businesses are learning that LinkedIn contacts, Facebook friends, and Twitter followers can help drive revenues. Marketing, after all, is about relationships and social media is a new form of building relationships. These small businesses are discovering that social media is a new source of business resulting from the improved ability to collaborate and listen, and more immediate response that social media generates.
Veronica Fielding CEO, Digital Brand Expressions and its service for small businesses, Jump Start Social Media, explores these topics on Thursday, August 20, from 12 noon to 1 pm during a free webinar, "What Every Entrepreneur Needs to Know About Social Media Marketing Today", on Ventureneer.com.
"Small business owners and managers have a lot of questions about the value of social media marketing and how to make it work for their brands," said Veronica Fielding. She added, "during this webinar, we'll overview how each of the three most popular social media sites can help small businesses build awareness and community around their brands and teach them how to let go of old school marketing strategies that don't work in social media environments so they can better embrace the strategies that are helping notables like Zappo's, Life is Good, and Comcast succeed."
Through this free webinar small business owners will learn how social media marketing is different from other forms of mass communications and how these differences drive the social media marketing strategies and tactics adopted by today's success stories. The webinar will focus on developing and implementing brand-aligned marketing strategies on LinkedIn, Twitter, and Facebook.
This free webinar is ideal for business owners and managers who want to leverage social media marketing on behalf of their businesses. Learn how to use social media for increasing brand awareness, improving customer communications, researching customer preferences, recruiting new employees, and more.
Veronica Fielding is the CEO of Digital Brand Expressions (DBE), The Findability PeopleSM. Prior to starting DBE in 2002, Ms. Fielding was an executive in the Interactive Publishing Division of Dow Jones/The Wall Street Journal where she spearheaded the development of education tools for private investors and was the president of an electronic publishing company that produced career exploration tools for teens. Ms. Fielding frequently speaks with the media on topics related to search engine and social media marketing. She was recently quoted in a New York Times article on managing personal brands through LinkedIn and Facebook, was interviewed for Entrepreneur Magazine, and has appeared on major TV news feature programs in New York and Philadelphia.
Ventureneer.com provides a new approach to learning that blends traditional formal instruction with informal learning derived from peers using Web 2.0 technology to capture and share this knowledge. Ventureneer's customized Web 2.0 learning environment: blogs, virtual classes, peer-to-peer learning, coaching, web events and articles, provide the necessary support to make faster, better organizational decisions.
###