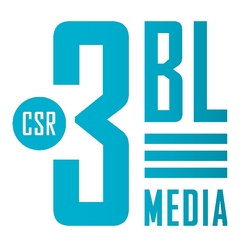 Each partnership is exciting because every affiliate is contributing something different to the CSR space
Brattleboro, VT (PRWEB) August 13, 2009
3BL Media's distribution network continues to grow with the addition of top CSR and Sustainability websites that will be running 3BL Media news.
CSR Digest, Good Business International, Zoosa.org, Realized Worth, Institute of Green Professionals (IGP), CSR Info, and Social Funds are just a few of the triple bottom line organizations that have recently partnered with 3BL Media to run 3BL's CSR, Sustainability and Cause Marketing news and information.
"When we were approached by 3BL Media earlier this year to be a part of their affiliate program, we were pleased to join, since 3BL Media's mission and goals dovetail with ours," says Good Business International's Ron Davison. Good Business International is a free public service information and research center dedicated to innovating new business models and documenting values-based social, economic, and environmental trends. "Both GoodB and 3BL Media are committed to advancing and promoting CSR and Sustainability and we wish them every success."
3BL Media continues to welcome new partnerships with triple bottom line affiliates.
"Each partnership is exciting because every affiliate is contributing something different to the CSR space," says 3BL Media co-founder Greg Schneider. "What we all share is a desire to deliver the best triple bottom line news and information to the widest audience possible."
Organizations interested in becoming an affiliate and running 3BL Media news should contact Greg Schneider at gschneider@3BLMedia.com.
Questions, comments and suggestions are always welcome.
About 3BL Media
3BL Media is the leading CSR, Sustainability, and Cause Marketing Communications company. Our experienced team of professionals help organizations--from nonprofits to multinational corporations-- have a positive influence on society and the environment through information sharing that leverages the most cutting edge technology and social media. 3BL Media defines, builds and refines the tools and methods necessary to help organizations communicate their commitment to the Triple Bottom Line in the way stakeholders want and need to know. To learn more, visit http://3blmedia.com.
# # #