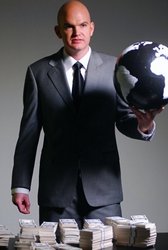 I can't control what you're gonna be
Los Angeles, CA (PRWEB) August 13, 2009
Who's to blame for TARP? My bank? My government? Or my apathy? New rock and roll video "Live My Life" offers a light handed, but sharp look at American idealism and the Wall Street bailout in the face of the financial crisis currently rocking the world.
Director / Choreographer Michael Cornell, collaborating with musician / composer Kameron White of the Los Angeles band, Rukus Juice, creates a kaleidoscopic social commentary of images and words as the employees of a "Bank and Trust" are revealed by a security camera that captures what is really going on when no one else is looking. The provocative lyrics "I can't control what you're gonna be" and "Don't blame your anger on me" resonate as Mr. White posing as a Wall Street titan parodies culture, media and the American dream.
Inspired by White's music, Cornell and executive producer Tracey Paleo create a flashpoint of opinion and reaction.
Like the financial crisis, the "Live My Life" video is layered with denials and double meanings all the way through to its witty "secret" epilogue.
Live My Life (Director's Cut)
Directed by Michael Cornell
Executive Producer Tracey Paleo
Director of Photography Michael Norquest
Performed by Kameron White and the band Rukas Juice
Semplice Pictures / Brink Tank Productions
###