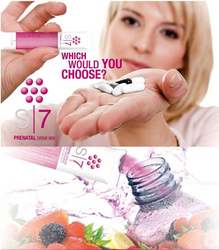 When you think of high quality nutritional supplements, you think of Hi Health.
Phoenix, AZ (PRWEB) August 13, 2009
Impact Nutritionals, a functional nutritional beverage company based in Phoenix, has signed a deal for Hi Health to sell its S7 Prenatal Drink Mix (patent pending) in their 52 retail locations across the valley.
"Part of our distribution strategy is to increase the number of retail locations where S7 Prenatal is sold, so we're thrilled to be partnering with Hi Health," said Jon Hill, Vice President of Sales for Impact Nutritionals. "When you think of high quality nutritional supplements, you think of Hi Health."
S7 Prenatal is a prenatal vitamin drink mix containing the super seven pregnancy nutrients; folic acid, iron, DHA, calcium, choline, ginger, and electrolytes in an all in one convenient pouch that you mix with water. With other prenatal vitamins, women would have to take a few different pills and drinks to get all these ingredients, but with S7 Prenatal, it is all in one great tasting berry flavored drink. Consumers can have confidence in S7 because it's made in GMP and NSF certified labs, doctor recommended, and formulated by top biochemists.
The deal with Hi Health comes in tandem of agreements with AMOMI Spa in Scottsdale, housed in the practice of Scottsdale Perinatal Associates, as well as distribution with Scott's Training Systems. "To have the endorsement from OBs of such a high caliber is an honor," said Hill.
To schedule an interview with Jon Hill or request a high-resolution product image, please contact Michelle Dudash at 480-659-6366.
About Impact Nutritionals, Inc.
Based in Phoenix, Arizona, S7 was founded in 2009 by Michelle Dudash, Ilene Hill, and Natalie Hill, with a mission to help people live a healthy lifestyle by creating unique, great tasting beverages using pure, natural ingredients. All S7 drinks achieve their distinctive flavors by using natural 100% fruit powders. They are free of artificial sweeteners, colors, and preservatives. S7 is sold nationally online our website at http://www.drinkS7.com and forthcoming is http://www.hihealth.com. S7 is sold locally at Hi Health, AMOMI Spa, and Scott's Training Systems. For more information on improving your health, visit our website, http://www.facebook.com/S7DrinkMix or call 1-877-LUV-MY-S7 (588-6977).
###