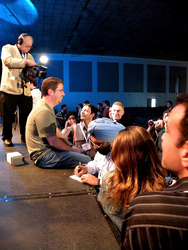 San Jose, CA (PRWEB) August 13, 2009

Who: Matt Cutts, Software Engineer Guru, Google Inc. Cutts joined Google as a software engineer in January 2000. Before Google, he was working on his Ph.D. in computer graphics at the University of North Carolina at Chapel Hill. He has an M.S. from UNC-Chapel Hill, and B.S. degrees in both mathematics and computer science from the University of Kentucky. Cutts wrote SafeSearch, which is Google's family filter. In addition to his experience at Google, Cutts held a top-secret clearance while working for the Department of Defense, and he's also worked at a game engine company. He claims that Google is the most fun by far. Cutts talks about webmaster-related issues on his site at http://www.mattcutts.com/blog/.
What: Extreme Makeover: Live Site Clinic.
When: Thursday, August 14, 2009, 10:30 to 11:45 a.m.
Where: Search Engine Strategies (SES) San Jose 2009 in Room C at the McEnery Convention Center.
Why: Matt Cutts works for the Search Quality group in Google, specializing in search engine optimization issues. He is well known in the SEO community for enforcing the Google Webmaster Guidelines and cracking down on link spam. Cutts also advises the public on how to get better website visibility in Google. He joins Moderator Elisabeth Osmeloski, Director of Online Media, Advertures in Search, and speakers Tiffany Lane, Search Quality Team, Google, and Greg Boser, President, WebGuerrilla LLC at the session.
How: This interactive session takes volunteers from the audience and examines their websites live to provide general feedback about improving them to gain more traffic from search engines.
###