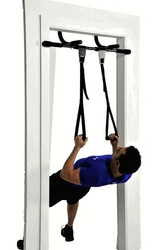 Leetsdale, PA (PRWEB) August 17, 2009
The hectic pace of modern life can make it difficult to work out - especially for those who travel frequently or just don't have the room for a full suite of workout equipment. That's why Ultimate Body Press - creator of portable body-weight resistance workout equipment, is proud to announce new additions to its product lineup that combine a strength training workout with high-intensity speed and agility training in the smallest space possible.
In addition to the Ultimate Body Press portable dip bar and its gymnast-style push-up rings add-on, these new items are available online at UltimateBodyPress.com:
Doorway Pull-Up Bar: An easy to assemble, portable bar that lets users do pull-ups, push-ups and more anywhere (with a doorway 24-32 inches wide). The Pull-Up bar can be combined with the Push-Up Rings attachment to unlock a new set of exercises.
Suspension Rings: Similar to the push-up rings, the extra-long 7 foot straps on these attachments are ideal for dynamic core strength exercises.
Push-Up Stands: Push-Up Stands reduce wrist strain and increase range of motion, allowing for longer and more intense workouts. The stands increase stability for improved form while exercising, and can be used in combination with other components of the Ultimate Body Press system or alone for standard push-ups.
Adjustable Speed Rope: The best way to build up foot strength is by jumping rope. Over just a few weeks, this exercise improves speed as well as overall motor control, as well as its benefits as a cardio exercise.
Ultimate Body Press's mission is not simply providing the equipment for a healthy lifestyle, but also maximizing the effect of that workout. With that goal in mind, UltimateBodyPress.com features free, innovative workouts that combine tradition body weight resistance training with speed and agility exercises for a comprehensive exercise regimen. In addition, all of the new and existing Ultimate Body Press equipment is available in value-priced packages that encourage the use of several products in tandem.
About UltimateBodyPress.com:
UltimateBodyPress.com is the online home of the Ultimate Body Press dip bar, a unique strength training device for on-the-go lifestyles. More than an online store, the site provides training videos using the products and a helpful fitness blog that encompasses every aspect of the fit lifestyle. For more information about Ultimate Body Press, call 877 734-7227.
# # #