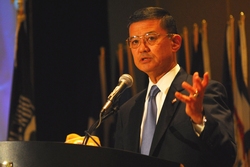 We will build this hospital
New Orleans, La. (Vocus) August 14, 2009
On Tuesday, Secretary of Veterans Affairs Eric K. Shinseki spoke to hundreds of veterans in New Orleans as part of the 65th annual AMVETS National Convention. Veterans from across the country have converged on New Orleans to tend to the business of one of the nation's largest and most inclusive veterans service organizations.
Shinseki, President Obama's top advisor on veterans' issues and a retired Army Chief of Staff, discussed issues critical to today's veterans' community and laid out his vision for a VA capable of meeting the needs of all veterans.
"President Obama has charged me with transforming the VA into a high-performing 21st century organization," said Shinseki. "It will be a different organization from the one that exists today—an organization that adapts to new realities, leverages new technologies, and is prepared to serve veterans, past and present, with renewed commitment."
Over the first seven months of the Obama Administration, the President has laid out an ambitious plan to tackle a variety of veterans' issues—an agenda which AMVETS vocally supports. However, AMVETS will continue to be vigilant, ensuring that the plan comes to fruition.
"AMVETS was excited to host Secretary Shinseki and to hear what he had to say on the issues that matter most to our organization," said AMVETS National Commander John C. Hapner. "The VA has the obligation to care for our men and women who bear the scars of war. We're eager to see how the secretary and the Obama Administration will implement their ambitious agenda to meet the needs of all our warfighters, past and present."
Shinseki also took the time to applaud the work of AMVETS dating back to WWII, when the founders had the foresight to create an organization designed to address their unique needs, while also allowing for the organization to grow and adapt to the benefit of generations yet to come.
Louisiana VA Secretary Lane Carson, a member of AMVETS and Vietnam veteran, was also on hand to address the AMVETS delegation. Carson discussed how the work of AMVETS was personal in nature to him and how the organization ensured that his needs were met when he returned from war.
Both secretaries Shinseki and Carson took a moment to address the VA Medical Center issue in New Orleans.
The city has been without a full service VA Medical Center for four years. Plans are in the works to build a facility with Louisiana State University that would be ready to open in 2013. However, construction of the new facility has been delayed over a variety of disputes ranging from land acquisition issues to hospital board staffing.
"We will build this hospital," Shinseki said, opening his remarks. Shinseki acknowledged that since Hurricane Katrina, the city has had to build its medical infrastructure from the ground up. Today, New Orleans VA clinics are at ninety percent pre-Katrina capacity, making the new hospital an imperative for the local veterans' community.
Throughout the week, AMVETS will also host retired Lt. Gen. Cha Tai-Chen, the Veterans Affairs Secretary General of Taiwan, and retired Rear Adm. Cheng Shieh, director of the Veterans Service Department of Tainan County in Taiwan. AMVETS has a long history of working with the allied Republic of China, with each National Commander visiting Taiwan to see how they care for their military men and women.
Other highly-regarded keynote speakers at this year's events include retired Army paratrooper Dana Bowman, an AMVETS member and former Army Golden Knight who lost both of his legs in a skydiving accident, retired Army Gen. Craig Whelden, director of the Army's Community Covenant program, and Jody Shifflett, outreach assistant for Air Compassion for Veterans and Mercy Medical Airlift.
Each year, members of AMVETS and its subordinate organizations, AMVETS Ladies' Auxiliary, Sons of AMVETS, Junior AMVETS and AMVETS Riders, gather to discuss the way forward for the organization and elect new national leadership. AMVETS will lay out its legislative agenda for the coming year, pass resolutions, and discuss potential new national programs to benefit an ever-evolving veterans' community. The convention will conclude with the installation of AMVETS' new national officers on Saturday, Aug. 15 at 2:30 p.m.
AMVETS will also host an expo from Wednesday through Friday for more than 25 exhibitors eager to assist the veterans' community.
This year's convention brings the promise of furthering AMVETS' mission to support all veterans, past and present. With recent transitional challenges faced by veterans of the Global War on Terrorism, AMVETS continues to establish itself as a leader in providing quality education, training and transitional opportunities to veterans.
American Veteran magazine, the official publication of AMVETS, will continue to update its blog live from the convention, providing up-to-the-minute details on the convention's speakers and organizational business. Visit the blog at http://americanveteranmagazine.blogspot.com.
To learn more about AMVETS National Convention, visit http://www.amvets.org.
About AMVETS:
A leader since 1944 in preserving the freedoms secured by America's armed forces, AMVETS provides support for veterans and the active military in procuring their earned entitlements, as well as community service and legislative reform that enhances the quality of life for this nation's citizens and veterans alike. AMVETS is one of the largest congressionally-chartered veterans' service organizations in the United States, and includes members from each branch of the military, including the National Guard and Reserves. To learn more visit http://www.amvets.org.
Media contact:
Ryan Gallucci
AMVETS National Headquarters
Lanham, Md.
(401) 487-7921
###