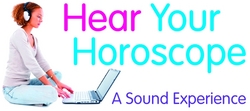 Since nearly all Internet users are already familiar with MP3 downloads, we feel that the only thing that has been missing in the personalized astrology marketplace, is an easier way to receive your horoscope and the ability to share this information with friends and family. We're not changing astrology, just the way it's delivered
Laguna Beach, CA (PRWEB) August 19, 2009
Hear Your Horoscope is launching the first interactive audio astrology web site, http://www.hearyourhoroscope.com . Users can stream, and download their personalized audio horoscopes directly from the web site. With its full line of "one-time" and "subscription" audio astrology products, Hear Your Horoscope's personalized audio horoscopes, appeal to both astrology enthusiasts and "curiosity" listeners.
All of Hear Your Horoscope's audio astrology products are based on a person's day, month, and year of birth and can be streamed or downloaded from the customer's computer. Some audios are also available "gift packaged " on a custom CD. Visitors can also hear a sample of their actual personalized audio horoscope prior to purchase.
"Hear Your Horoscope developed its niche digital audio astrology products to appeal to those consumers interested in astrology, but who are unwilling to read a lengthy text report," says Bryan Gianesin, Founder.
"We feel that at a time when nearly all Internet users are familiar with digital streaming and downloads, a group of truly personalized audio products which can be easily 'heard,' appeal to all consumers. Frankly, the vast majority of people would rather "hear" their horoscope by simply streaming or downloading it on their computer," continues Gianesin. "Since nearly all Internet users are already familiar with MP3 downloads, we feel that the only thing that has been missing in the personalized astrology marketplace, is an easier way to receive your horoscope and the ability to share this information with friends and family. We're not changing astrology, just the way it's delivered," concludes Gianesin.
Hear Your Horoscope's personalized audio products include: All About You, a 30 minute personal audio birth report; Power Days, a subscription audio sent via email, that details an individual's opportunities and challenges throughout the month; The Moon and You for Women, a 20 minute individualized audio which describes the many facets of the Moon in a woman's chart (with a guided imagery meditation), and New Moon and Full Moon Predictions, a free bi-monthly audio subscription for everyone.
According to a 2008 Harris Poll, at least 31% of the U.S. population believes in the power of astrology. A 2005 Gallup Poll confirmed that 25% of Americans believe that: "….astrology or that the position of the stars and planets can affect people's lives." These poll numbers suggest that nearly 70 million people believe in the power of astrology. What is even more interesting, is that these substantial numbers have remained constant since 1988, when the Gallup organization posed a similar question.
Horoscopes are everywhere. Nearly everyone knows their astrological "Sun-sign." Astrology appeals to both the knowledgeable enthusiast and to those people who are merely curious and use it for entertainment purposes. Hear Your Horoscope believes that its one-of-a-kind personalized audios, which go far beyond mere "Sun-sign" astrology, are the newest, hippest, and most exciting way to deliver and share your "personal" horoscope.
For additional information about the new astrology Web site, Hear Your Horoscope, and its exciting line of personalized audio astrology products, visit hearyourhoroscope.com.
Contact:
Bryan Gianesin
Hear Your Horoscope
949-293-3857
http://www.hearyourhoroscope.com/feedback
###