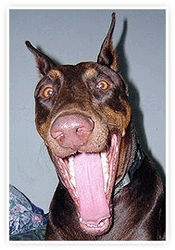 I'm Tired of Animal Cruelty
Santa Monica, CA (Vocus) August 14, 2009
Twenty-three darling dogs and fantastic felines premiered today in their first starring movie roles, as part of "SMILE2, The Sequel," to make a statement against animal abuse and neglect — but in a happy way. What?
The SMILE video series is all about dogs and cats — like the name says — smiling. The idea is to keep them smiling by doing away with animal cruelty. Thousands of kooky kitties and precious pups auditioned over the last two months by entering a contest, sponsored by I'm Tired of…, to land a spot in SMILE2. The original SMILE video has been viewed more than 250,000 times and their owners knew this could be their shining moment.
The "I'm Tired of…" campaign was launched less than a year ago by brother and sister team, Dan Hoffman and Carrie Pollare, to fight against the world's issues that we are all tired of, like animal cruelty, BSL (breed-specific legislation), discrimination, world hunger, global warming, cancer, diabetes and so many more. The fashionable bracelets are made from recycled tires and metals, creating a fun play on the word, tired, and cost just $10, so anyone can afford them. Then half the sale ($5) from each one is donated to charities the company is aligned with that support each cause. The company recently also introduced "I'm Tired of Animal Cruelty" t-shirts and bumper stickers.
"We continue to pull out all the stops to bring awareness to animal cruelty and raise money for the cause," Hoffman said. "In less than 10 months, sales of our I'm Tired of Animal Cruelty bracelets and t-shirts have raised many thousands of dollars for Best Friends Animal Society, our charity beneficiary. We did the first SMILE video as almost a whim to try to draw some attention to the cause and just put it out there. Never in our wildest dreams did we think it would be such a hit. Of course, we had to make the sequel, but we wanted to engage our animal loving fans in the process, so we created the SMILE2 Contest. Anyone could enter a photo of their dog or cat smiling. We got thousands of entries and it was a tough choice, but we love the result. Best Friends was helped with the judging."
You can see both the SMILE and SMILE2, The Sequel, videos at http://www.ImTiredOnline.com .
The "I'm Tired of Animal Cruelty" bracelets and t-shirts can be purchased at http://www.ImTiredOnline.com , as well as bracelets supporting other causes, including AIDS, Autism, Alzheimer's, BSL (Breed-specific Legislation), Breast Cancer, Cancer, Child Abuse, Coal, Diabetes, Discrimination, Global Warming, Heart Disease and World Hunger. For more information, visit http://www.ImTiredOnline.com . Press contact is Carrie Pollare, carrie(at)ImTiredOnline(dot)com, 310-314-3660.
###