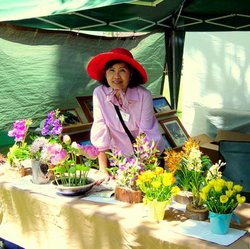 Kernville, Callifornia (PRWEB) August 15, 2009
The Kern River Valley Art Association is gearing up to present its 46th annual Sierra Arts and Entertainment Festival in the Kern River Valley in the Southern Sierra mountains. Visitors from all over Southern California will flock to the area to enjoy the festival, camping, water sports, and the galleries and shops of Kernville.
The Festival takes place in Kernville, California, at the Odd Fellows Hall and Circle Park, a lovely old fashioned tree-studded town-park set among old-western style shops and restaurants, within walking distance to the Kern River. Just an hour's drive from Bakersfield, three hours from Los Angeles and an hour from Ridgecrest, brings visitors to fresh mountain air to listen to local musicians, purchase one of a kind arts and crafts items and enjoy performances by local actors and singers.
Gifted artisans exhibit and offer for sale original fine art and hand-made, one of a kind arts and crafts items: gem stone jewelry, wood and fabric art, hand made rugs, hand made pens, carved and decorated gourds, locally written books, bird houses, water colors, acrylic paintings, photography, oil painting, woodworking , candles, artfully painted sweatshirts and saws, wine bottle stoppers, children's toys, hand-sewn items, delicate deco-clay flowers, and much much more.
Children delight in getting their faces painted and creating crafts at the workshops offered each day at the festival. Boutiques, galleries and shops of Kernville offer additional arts and crafts as well as designer fashions, antiques and mouth-watering mountain cuisine. This year the festival includes an indoor fine arts exhibit and sale in the Odd Fellows Hall adjacent to Circle Park. Campgrounds, bed and breakfasts and other lodging facilities are available for reservation.
Festival hours:
Opening Reception Friday Night at the Odd Fellows Hall: 6:00 pm - 8:00 pm. Circle Park Arts and Crafts and Odd Fellows Hall Fine Arts Exhibits: 9:00 am to 5:00 pm Saturday and Sunday. 9:00 am to 1:00 pm on Monday For further information go to http://www.krvaa.org.
# # #