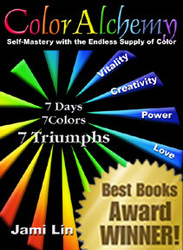 advanced thinking for infinite possibilities.
Miami, FL (Vocus) August 14, 2009
Teachers are able to harness the power of the rainbow, with the same science that they teach in class, to create a more successful school year. ColorAlchemy can be used in classroom decor and for scheduling, along with easing parent, teacher, and student communications.
According to award-wining author, Jami Lin, discussing her new ColorAlchemy book, "every day of the week has the attributes of a different color the follow the momentum of the school (and work) week along with the color progression of a rainbow." The Daily-Color Triumphs, as Lin calls them, "help fulfill everyday needs and by the end of the week, combine to complete all the basics of human desire: vitality, creativity, confidence, love, focus, intuition, and peace. Color and children have an instinctive relationship - more adults could play with their inner colors too."
Monday's color is red. Red enhances physical stamina and strength. Assignments and activities for Mondays should be indicated in red. Teachers can use red decorations for those times when children seem to be their most sluggish, such as after lunch.
Tuesday's color is orange. Orange heightens body appreciation and creativity. Assignments and activities for Tuesdays should be indicated in orange. Creative assignments should be posted on orange posterboard. Teachers can decorate the classroom with orange during science fair projects or art class. Orange is also a great inspiring children who are lazy or depressed.
Wednesday's color is yellow. Yellow allows for greater self-confidence and personal power. Assignments and special events for Wednesday should be indicated in yellow. The teacher can decorate the room in yellow when it is time for taking exams, tests, or giving oral presentations. She could put a yellow strip of paper across each child's desk for extra inspiration.
Thursday's color is green. Green increases joy and trust for deeper relationships. Assignments and special events for Thursdays can be posted in green. As green is the compassion color, it would be a good choice when communicating with parents, who need to realize they are on the same side as the teacher.
Friday's color is blue. Blue improves mental clarity for clearer communication and decisiveness. Assignments and special events for Fridays can be posted in blue. Decorating the room in blue on Fridays will help calm the children who are excited about the upcoming weekend. Classroom meetings often occur on Friday to make plans for the upcoming week, perfect for the thoughtful color.
Saturday's color is indigo. Indigo awakens inner intuition and intelligence. Weekend homework assignments can be posted in indigo or violet. Teachers should take advantage of indigo to reflect on what they have observed in their classroom this week and what changes need to be made in the future.
Sunday's color is violet. Violet brings a deeper connection to spiritual love and bliss. The teacher should use violet to rejuvenate herself on the weekends so that she can be the best educator possible to her students. In the classroom, violet can be used to help the more rebellious kids or the loners.
Teachers can focus on the color of the day to facilitate the scheduling of homework and special events. The students will naturally be drawn to it, as color speaks to children, as it does to everyone.
It is easy to apply colors in the classroom with the paper used, changing a wall hanging or tablecloth at the teacher desk, and allows the teacher to call upon the color traits as needed. She can also apply the needed colors through her clothing choices each day.
The teacher can also instruct her students in the meanings of each color, thus empowering them to call upon the color traits when required. Prior to the start of each lesson, a couple of minutes could be used to focus on the color, drawing color breaths, to harness the power. Simple, fast, and effective.
For further color tips to incorporate into back-to-school plans, visit Jami Lin at ColorAlchemy.com.
###
About us
Jami Lin's (JamiLin.com) new, award-winning ColorAlchemy book (ColorAlchemy.com), is heralded as "advanced thinking for infinite possibilities." She is a 30-year veteran of interior design. Her expertise evolved into Feng Shui (Feng-Shui-Interior-Design.com), international recognition as a master with six best-selling books, an online home-study certification program, and PBS-TV pilot. Color is her trademark.
Jami's media section provides the press with valuable, tailor-made content using color therapy, Feng Shui, design, and youth-enhancing wellness in: Lifestyle/General Interest, Family/Children, Business Success, Home/Garden, Health: Body, Mind, Energy Medicine, Youth-Enhancing Secrets, and Human Spirit/Awareness.
Jami is available for interviews.
Photographs available on request.
Media contact:
Joy Starr
941-276-8689
ColorAlchemy.com
Written by: Andrea Coventry
585-482-7702
montessoriwriter.today.com/where-to-read-me
###