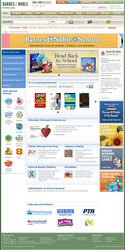 Barnes & Noble is proud to introduce B&N@School, an innovative new platform that provides families, teachers and librarians with an in-store and online one-stop back-to-school and year-round shopping experience
New York, NY (PRWEB) August 17, 2009
Barnes & Noble, Inc. (NYSE BKS), the world's largest bookseller, today announced trailblazing initiatives both in-store and online at Barnes & Noble.com to meet the changing needs of consumers and a fast-evolving marketplace:
B&N@School: A new section that provides easy access to the best educational tools for parents, teachers and librarians at Barnes & Noble stores and online at Barnes & Noble.com.
Educational Toys & Games Department: An extension of B&N@School that provides an alternative to the mass market toy retailers and fills a void created by the disappearance of specialty toy chains, giving consumers a place to find toys and games that spark creativity, imagination, and a love of learning in children.
Enhanced Educator Discount Program: This popular program available in Barnes & Noble stores for the past decade now expands online so Pre-K-12 educators can benefit from 20% off list price of books, toys and games for classroom use.
"Barnes & Noble is proud to introduce B&N@School, an innovative new platform that provides families, teachers and librarians with an in-store and online one-stop back-to-school and year-round shopping experience," said Jaime Carey, chief merchandising officer at Barnes & Noble, Inc.
"The launch of B&N@School complements our recently expanded Educational Toys & Games department which gives education-minded parents and families access to educational toys and games from a retailer they trust to meet their reading needs." According to Mr. Carey, parents enthusiastically point to the high quality, award-winning toys and games that the department features. The product selection, Carey continued, extends from toys suited for an infant's first stage of development through pre-teen years and features a wide selection of educational electronics and science kits.
The new twist for the extremely popular Educator Discount Program, he explained, is the opportunity for Pre-K through grade 12 teachers to now obtain discounts online at Barnes & Noble.com once they have signed up in-store for their special discount card. According to Carey, online accessibility for card-holding educators "further enhances the Barnes & Noble brand while highlighting our recognized and robust commitment to educators and the cause of literacy in the United States." Barnes & Noble continues to offer educators 20% off list price on most hardcover and paperback books purchased for classroom use.
B&N@School: Easy Access and Precision Purchases
For shopping convenience, the B&N@School sections in Barnes & Noble stores are arranged by grade level, from pre- to elementary grades, to middle school and high school. Materials are categorized by topic for each age group. B&N@School includes additional sections emphasizing curricula, basic skills workbooks, arts, crafts and activities. The section also features educational toys and games, manipulatives (hands-on learning products employing a multisensory approach), decorative items and awards.
B&N@School Pre-K-12 learning materials include workbooks and classroom materials categorized by grade and subject matter. For example, consumers in-store or online can choose to see teaching products for sixth-grade math and refine their search by viewing products by topic, such as subtraction, decimals and fractions. B&N@School Pre-K-12 also features a new educational DVD store and a quick, efficient way to shop for favorite educational brands, including LeapFrog, ThinkFun and Scientific Explorer.
B&N@School Pre-K-12 study aids include bestselling prep books categorized by test, including Advanced Placement prep and PSAT, SATI and SAT II materials. B&N@School special needs resources are aimed at educating children with learning, physical and emotional disabilities, with more materials now dedicated specifically to autism, ADD and Down Syndrome.
B&N@School in-store and online Pre-K-12 teaching resources include teaching books arranged by subject and grade. Other B&N@School teaching resources include teaching exam study guides, home schooling materials and guides for teachers of students with special needs.
B&N@School library services offer discounts, deferred billing, and tax exemption, plus an online catalog of bestselling children's books categorized by age, award winners and classics. Librarians can find out about discounts and special services online on the "Library Services" page in the B&N@School section.
B&N@School lets consumers connect to the buzz about new books, favorite authors and the collective wisdom of B&N readers. The B&N blog "Letter Blocks" helps parents who are avid readers inspire their children to develop and share their passion for reading.
B&N@School events provide the opportunity for educators, parents and students to meet classroom and personal reading needs. B&N@School's Educator Appreciation Week October 10-18 offers teachers an enhanced 25% discount off list price on classroom and personal purchases as well as a 10% discount on purchases of educational CDs and DVDs. Bookfairs, a 10-year old Barnes & Noble tradition in Barnes & Noble stores nationwide, provide pre-K through grade 12 schools, as well as non-profit arts and literacy organizations, the ability to earn up to 25% of the proceeds from purchases made by their supporters at in-store bookfairs on a vast selection of books, CDs, DVDs and qualified products.
About Barnes & Noble, Inc.:
Barnes & Noble, Inc. (NYSE: BKS), the world's largest bookseller and a Fortune 500 company, operates 777 bookstores in 50 states. Barnes & Noble is the nation's top bookseller brand for the sixth year in a row, as determined by a combination of the brand's performance on familiarity, quality, and purchase intent; the top bookseller in quality for the second year in a row and the number two retailer in trust, according to the EquiTrend® Brand Study by Harris Interactive®. Barnes & Noble conducts its online business through Barnes & Noble.com one of the Web's largest e-commerce sites.
General information on Barnes & Noble, Inc. can be obtained via the Internet by visiting the company's corporate website: barnesandnobleinc.com.
Social Media Links:
Follow B&N on Twitter: twitter.com/BNBuzz
Become a fan of our Facebook Page: facebook.com/barnesandnoble
Subscribe to our channel: youtube.com/user/BNStudio
###