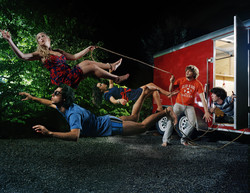 combination of Arcade Fire's orchestral reveries and Vampire Weekend's pop sensibility
Hamtramck, MI (PRWEB) August 16, 2009
The 29th Annual Hamtramck Labor Day Festival will take place Friday, Sept. 4th - Monday, Sept. 7th in downtown Hamtramck. This year's festivities include all the age-old Polish traditions that have made the Labor Day Festival a regional favorite as well as many multicultural offerings that only Hamtramck -- Michigan's most ethnically diverse city -- can offer.
Music headliners include New York-based indie darlings, V2 Records' Ra Ra Riot (whose sound Rolling Stone describes as a "combination of Arcade Fire's orchestral reveries and Vampire Weekend's pop sensibility,") and 1950s rockabilly legend, Jack Scott ("They Way I Walk" and "Goodbye Baby"). Beloved festival mainstay The Polish Muslims will headline as well.
"We are extremely pleased that we were able to keep this family-friendly event free of charge," says Eve Doster Knepp, the events coordinator for the City of Hamtramck. "It was important to us to offer high quality entertainment that doesn't break the bank," she adds. "There's always a tremendous outpouring from the Polish community and I just know our ethnically diverse town is going to be hopping."
Other highlights are: Hamtramck Schools Reunion (Sunday, Sept. 6 - all classes/all Hamtramck school alumni welcome), the Polish Day Parade (Monday, Sept. 7 from 1:30 p.m. - 3 p.m.), a tribute to veteran's (Sunday, Sept. 6th), a children's area, carnival rides, dunk tank, vendors, a World Music stage(everything from Afrobeat to Bosnian pop music), beer tents, Polish beers, Polka Mass with "big Daddy" Lackowski, Bengali Music Group, ethnic foods, children's activities and much more.
This family event is free and open to the public.
http://www.hamtramcklaborday.com
2009 Festival lineup:
FRIDAY, SEPT. 4th
SOUTH STAGE (alt-country and rock)
7:30 p.m. Duende!
8:30 p.m. Lightning Love
9:30 p.m. Doop & the Inside Outlaws
NORTH STAGE (rock 'n' roll)
7 p.m. The Displays
8 p.m. Spitting Nickels
9 p.m.Troy Gregory
************************************************
SATURDAY, SEPT. 5
SOUTH STAGE (roots)
3 p.m. Rise of the Peaceballon
5:30 p.m. Bones Maki's Big Barn Combo
7 p.m. Michael Hurtt & his Haunted Hearts
9 p.m. Jack Scott
NORTH STAGE (country)
4 p.m. Derringer
6:15 p.m. Skin and Bones
8 p.m. The Orbitsuns
************************************************
SUNDAY, SEPT. 6
SOUTH STAGE- (various)
11 a.m. Polka Mass with "Big Daddy Lackowski"
1 p.m. Pierogi Eating Contest
4 p.m. Rocky Loves Emily
7 p.m. Battling Siki
8 p.m. Terrible Twos
9 p.m. RA RA RIOT (NY)
NORTH STAGE (nostalgia)
noon-4:30 p.m. Legends Live! All-star Impersonators Review
5 p.m. PLAV 10 Karaoke Contest Finalist
6 p.m.The Polish Muslims
************************************************
MONDAY, SEPT. 7
SOUTH STAGE (Polish)
3 p.m. Polish Dancers
3:30 p.m. Misty Blues
5:45 p.m. Polka Floyd
7:30 p.m. Trio Pokolenie
NORTH STAGE (World Music)
4: 15 p.m. Bengladeshi Music Group
6:15 p.m. Hilmija Hot (Bosnian pop)
7 p.m. Odu Afrobeat Orchestra
For interviews, additional hi-res photos or MP3s, please contact Eve Knepp at: 313-575-6115.
The 29th Annual Hamtramck Labor Day Festival is sponsored by: WXYZ Channel 7 , Metro Times, 89X and Pettipren.
# # #