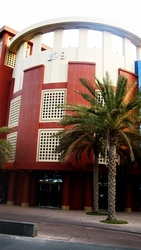 Symon Dacon has been supporting the sale of Symon's solutions into the Middle East for several years. This move strengthens Symon's ability to support the region and better positions Symon to serve our Middle East resellers and their customers
Hemel Hempstead, UK (PRWeb UK) August 18, 2009
Symon Communications, a leading provider of visual communications solutions to clients world-wide, announced today the opening of an office in Dubai, United Arab Emirates. Symon Dacon, a fully owned UK-based subsidiary of Symon Communications, Inc, will have oversight responsibility for the Dubai office and Joe Rabah, Symon's new Managing Director of Middle East operations, will have operational responsibility.
"Symon Dacon has been supporting the sale of Symon's solutions into the Middle East for several years. This move strengthens Symon's ability to support the region and better positions Symon to serve our Middle East resellers and their customers," says Charles Ansley, Symon's CEO.
"Our Dubai operation strategically positions us in the region and gives us a much stronger reach in the areas bordering the Middle East than ever before," says Joe Rabah, Symon's Managing Director of Middle East operations. "Symon has already been successful with recent wins in the education, hospitality and telecom sectors in the Middle East region."
Located in Dubai Internet City, Symon's Dubai presence well positions the company to serve emerging markets in the Middle East as well as pursue emerging markets that extend from the Indian subcontinent over into Africa. The combined region houses over two billion people and boasts a combined gross domestic product of $6.7 trillion. In addition to hosting Symon's new offices, the Dubai Internet City is also home to some of the most recognized brands in the technology industry.
About Symon Communications, Inc.
Symon Communications is a leading global provider of award-winning in-venue visual communications solutions. Symon is proud to boast a 29 year history of profitability and a client roster of over seventy-five hundred clients, which includes nearly 80 percent of the Fortune 100 and almost 70 percent of the Fortune 500.
Symon's advantage lies within its operating model, which offers customers a single point of accountability for all visual communication implementations along with a state-of-the-art, fully-integrated and proven content management system. Symon's value proposition is centered on providing clients with a visual communications solution that will inform, entertain and/or positively influence a viewer's behavior.
Headquartered in Plano, Texas, Symon's U.S. offices manage sales and support of clients and prospects located throughout the Americas. Symon's European subsidiary, Symon Dacon, manages sales and support of clients and prospects throughout the EMEA region. Symon Dacon's headquarters are located in Hemel Hempstead, UK http://www.symon.com.
EMEA COMPANY CONTACTS:
Symon Middle East
Joe Rabah
Symon Dacon, ltd.
Dubai Internet City
P.O. Box 500 386
Building 9, Suite 218
Dubai, UAE
+971 (4) 434-7580
Symon Dacon, Hemel Hempstead, UK
Katrina Douglas
1 Enterprise Way
Hemel Hempstead
Hertfordshire
HP2 7YJ, UK
+44 (0)1442 275235
Symon Corporate
Symon Communications, Inc.
Leesa Rankin
+1 972-578-8484
###