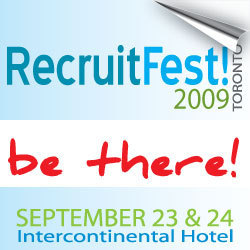 I got feedback and opinions from some of the most forward thinking people in recruiting today
(PRWEB) August 15, 2009
Part educational powerhouse and part party, the gathering is aptly named RecruitFest. Although a newer conference in the Recruiting and Staffing sphere, RecruitFest already boasts a strong pedigree. Not only does the unconference boast recruiting industry icons like Gerry Crispin and John Sumser as track leaders; the agenda also includes fresh voices with new insights to share, like Jenny DeVaughn, Stephanie A Lloyd, Marie Journey, Julia Stone, Jerry Albright and Bill Boorman.
Jason Davis, RecruitingBlogs.com founder and RecruitFest organizer isn't interested in competing with massive, expo-like events. His belief, that the best networking often happens in the conversations before and after traditional conferences, extends into the fabric of the event itself.
"Well, it's very basic but very powerful. It's much different from a regular conference in that no one will be speaking at you. Attendees will be part of a group that is moderated by a track leader and they will both learn something and teach something," said Davis.
Geoff Webb, the Toronto event organizer says: "The relationships made at RecruitFest are more than business cards changing hands. These are serious recruiters who come here to learn, network and do some serious business."
Previous RecruitFest attendees were very enthusiastic about the first RecruitFest, if the flurry of blog posts, video blogs and photos in the recruitosphere are any indication.
"I got feedback and opinions from some of the most forward thinking people in recruiting today," said Brendan Shields, a previous attendee from ERE Media.
Davis hopes to continue in the tradition of offering recruiters a place to learn that defies traditional convention and accelerates the learning process.
"We're tweaking the format a bit from the first RecruitFest," said Davis. "This time, we have a team of folks organizing the conference." Tracks include business development, social media, third party recruiting and a special colloquium on candidate experience.
"We should start to expect that networking is a success when it produces really big smiles," said John Sumser, who was also a speaker at the first RecruitFest, held in Toronto.
To find out more about RecruitFest 2009: Toronto, please visit http://www.recruitfest.com. Special discounts are available for bulk ticket purchases.
RecruitingBlogs.com is a community for Recruiters and HR Professionals established in 2006. As of this writing, the network has 18,000 members. RecruitingBlogs.com also runs recruiting related sites: Recruiting101.com, HashJobs.com, RecruitingConferences.com, RecruitingTools.com and JobBoarders.com (with ERE Media).
This press release was distributed through eMediawire by Human Resources Marketer (HR Marketer: http://www.HRmarketer.com) on behalf of the company listed above.
###