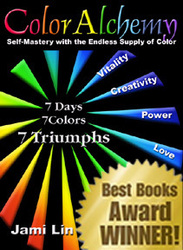 Blue improves mental clarity for clearer communication and decisiveness.
Miami, FL (Vocus) August 15, 2009
Parents can help their child be successful in school by using ColorAlchemy when shopping for back-to-school supplies. Paying attention to colors when choosing notebooks, folders, pens, and even clothes can maximize a student's potential.
According to award-wining author, Jami Lin, discussing her new ColorAlchemy book, "every day of the week has the attributes of a different color that follow the momentum of the school (and work) week along with the color progression of a rainbow." The Daily-Color Triumphs, as Lin calls them, "help fulfill everyday needs and by the end of the week, combine to complete all the basics of human desire: vitality, creativity, confidence, love, focus, intuition, and peace. Color and children have an instinctive relationship - more adults could play with their inner colors too. "
Monday's color is red. "Red enhances physical stamina and strength." Purchase a red folder to hold all assignments that are due on Mondays. Use a red lunchbox to revive tired bodies for the second half of the day. Use a red pen to take notes during those long afternoon classes.
Tuesday's color is orange. "Orange heightens body appreciation and creativity." Purchase an orange folder for all assignments that are due on Tuesday. Look for an orange notebook for creative writing and art sketching. When researching for a creative science project, use an orange highlighter. An orange backpack can also be a good motivator for children who seem lazy or depressed.
Wednesday's color is yellow. "Yellow allows for greater self-confidence and personal power." Use a yellow folder for assignments that are due on Wednesdays. Cover books for challenging classes in a yellow book cover. Use a yellow highlighter when studying for upcoming exams. Have yellow pencils available for test-taking purposes.
Thursday's color is green. "Green increases joy and trust for deeper relationships." Use a green folder to remind of assignments due on Thursday. Green notebooks can be used in favorite classes. Green book covers can be used for those classes for mutual teacher-student connection.
Friday's color is blue. "Blue improves mental clarity for clearer communication and decisiveness." Use a blue folder for assignments due on Fridays. A blue notebook can be used for parent-teacher-student communication. Blue backpacks can be good calming tools for children who have higher energy levels.
Saturday's color is indigo. "Indigo awakens inner intuition and intelligence." Weekend homework can go into an indigo or violet folder. Students can reflect upon this color to process what they have learned during the week.
Sunday's color is violet. "Violet brings a deeper connection to spiritual love and bliss." A violet folder or notebook can be used to hold correspondence to friends. Children who tend to be more rebellious or are loners should be surrounded in violet.
Parents can focus on the color of the day to facilitate scheduling of homework and special events. Children are naturally drawn to color and they will understand it.
Other school tools can be used that allow the child to call upon a certain color trait when needed. The plastic casing of the child's cell phone can be changed. Backgrounds on display screens on phones and computers can also be easily changed. The child can carry his own water bottle in a specific color to assist him throughout his day. Backpacks lunchboxes, and the dishes that hold the lunch can all be manipulated to fit the child's needs.
For further color tips to incorporate into back-to-school plans, visit Jami Lin at ColorAlchemy.com.
About us
Jami Lin's (JamiLin.com) new, award-winning ColorAlchemy book (ColorAlchemy.com), is heralded as "advanced thinking for infinite possibilities." She is a 30-year veteran of interior design. Her expertise evolved into Feng Shui (Feng-Shui-Interior-Design.com), international recognition as a master with six best-selling books, an online home-study certification program, and PBS-TV pilot. Color is her trademark.
Jami's media section provides the press with valuable, tailor-made content using color therapy, Feng Shui, design, and youth-enhancing wellness in: Lifestyle/General Interest, Family/Children, Business Success, Home/Garden, Health: Body, Mind, Energy Medicine, Youth-Enhancing Secrets, and Human Spirit/Awareness.
Jami is available for interviews.
Photographs available on request.
Media contact:
Joy Starr
941-276-8689
ColorAlchemy.com
Written by:
Andrea Coventry
585-482-7702
montessoriwriter.today.com/where-to-read-me
###