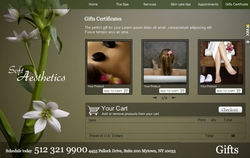 We've had a lot of requests for an eCommerce solution on Wix
New York, NY (PRWEB) August 18, 2009
Wix.com, already renowned for providing small businesses and consumers with access to a powerful Flash website builder, is stepping up the ante with yet another game changer. Wix has revolutionized their web building capabilities by releasing a feature that enables Wix users to easily set up an online shopping cart and launch an eCommerce website!
Wix has created a unique solution to mesh several tools and services, all in one easy to use package. Making your own web design and hosting it with Wix is already free. Upgrading to advanced features such as unlimited bandwidth, 2.5 GB of storage and an ecommerce option now costs a fraction of what these same components would normally run for individually.
Signing up and creating anything from free websites in Flash, mini-sites, social profiles, widgets and others, is completely free. Wix offers upgrade packages with benefits such as using a personal domain name, embedded Google analytics and extra storage for users who require a little more control.
Wix's ecommerce features include: An easy to add shopping cart, fast and easy product management, a custom domain name, integration with PayPal and much more.
One of the most exciting developments is that Wix doesn't collect any commission whatsoever from ecommerce generated sales. Once a Wix user upgrades his account to the ecommerce package, they're ready to get started with their own online store, using Wix's shopping cart and attractive and simple interface.
Bringing the Product to the Public in No Time
"We've had a lot of requests for an eCommerce solution on Wix", says Allon Bloch, Wix Co-CEO, "We've been working hard to give our users something great! Our new eCommerce widget is simple to use, beautifully designed and capable of handling online selling needs".
Creating and customizing an eCommerce Flash website is really simple. There's no need for a code. You can either browse through the various Flash templates or start from scratch. Wix eCommerce is fully editable and capable of creating a wonderful online destination for potential customers.
Online Customers Are Waiting
A perfect example of one such retailer currently taking advantage of the potential of a Wix ecommerce site is rmcomputers.co.uk which allows their users to custom build their PC according to their preference by choosing various components, all built with Wix and the new eCommerce features.
Another example comes from the fashion world with a site called: http://www.wix.com/susiemarie/SusieMarieFashion. Susie Marie is a 20 year-old self taught fashion designer. To help launch her business, Susie Marie set up shop with a Wix eCommerce store where she sells her fashionable creations.
Creating an eCommerce website with Wix allows you to cut down on costs while focusing on quality. The major significant advantage is that it allows local business owners to play on a much wider playing field and presents tremendous potential for growth
###