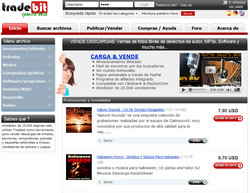 A Spanish version of Tradebit was created based on demand of our merchants, who know their individual business probably better than we do
Wilmington, DE (PRWEB) August 17, 2009
This week Tradebit.com, the Delaware based digital marketplace, released a new version of their platform for the Spanish speaking Internet community.
The Spanish version offers all functionality of the famous English version under the new domain, tradebit.es, including the English version's powerful affiliate network.
Software vendors and publishers are enabled to publish their digital goods in English, German and Spanish from one administration interface by adding a title, description and - if needed - an additional version of the file.
After the start of the platform in the U.S. in 2004 and the roll-out of the German version in 2008, Tradebit hereby enhances the reach of its eCommerce solution for downloads into a 3rd language which is spoken
by more than 400 million people worldwide - more than 34 million in the United States alone.
The English version of the platform features over 20,000 merchants with just over 10 million files on sale.
Among those is a large selection of DRM-free MP3 downloads and countless eBooks which will be available with Spanish descriptions in the coming weeks.
"A Spanish version of Tradebit was created based on demand of our merchants, who know their individual business probably better than we do", said Ralf Schwoebel, Tradebit's founder and CEO. "We also saw a lot of Spanish content published on the English site, so hopefully this will streamline the service for those products and their customers"
Tradebit is a unique solution for buyers of downloads who are able to purchase and download files without having to register - using Paypal and other direct payment methods.
The company also assists publishers in managing, presenting and selling their downloads on a global scale.
###