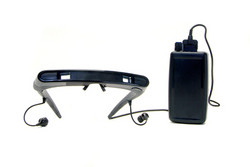 climb into bed, never get back out, and do nothing with the rest of their lives.
Meadville, PA (PRWEB) August 18, 2009
A remarkable woman earns a new lease on life fighting Multiple Sclerosis against all odds. A new non invasive device, the GaitAid, is now accelerating her positive progress.
Francesca De Grandis of Meadville, PA became crippled in 2001. Within months, the physician added a bitter statistic. He said that 70 % of folks who suffered what she did "climb into bed, never get back out, and do nothing with the rest of their lives." By 2006 she was tentatively diagnosed with Multiple Sclerosis.
Francesca couldn't give up. She was determined to find ways to fight off this ailment. Her condition was so bad that it took a year and half before she could sit because her body was in so much pain. Slowly, she started exercising by shuffling for 30 seconds, turning around and shuffling back. "This was a marathon!", Francesca recalls.
Francesca had to be aggressive and kept pushing herself towards health. Changing her diet, researching medicinal herbs, and exercising her body. Now, seven years later she has improved immensely and is amazed that now she is able to sit all day.
Still Francesca was seriously crippled and wanted to mend more and faster. This is when she found the GaitAid device for movement disorder patients. Francesca says, "I believed it was possible to re-pattern the brain's functions, and the GaitAid does it for me - - what a relief! I don't have to create methods myself anymore! All I have to do is put on the GaitAid and follow the instructions that come with it. It does the work for me. Now, the re-patterning is happening at a fast rate."
"The GaitAid has helped me in other ways as well. Though my progress before Medigait was exceptional, it is not enough - - I want maximum progress! After experiencing insufficient improvement for such a long time, the GaitAid motivates me to work toward all the health that is possible. I had lost my steam in some ways. But the progress possible with a GaitAid made me believe in myself again! And it renewed my hope for recovery. As a result, I was able to recommit to a more vigorous physical therapy exercise program than I had done in recent years. That program, in and of itself, is improving my movement.
Overcoming physical disabilities as extreme as mine does not happen if you think others should do all the work for you. I have to be pro-active. But the success I am having from the GaitAid gives me tremendous motivation to do whatever is needed to become as strong and healthy as possible.
Using the GaitAid motivates me in another way, too. During practice sessions with it, I have better posture and an easier stride, both of which send my brain the message that I am strong and capable of dealing with this illness. It gives me a sense of empowerment. I feel more confident in my own ability to heal.
When I first started using the GaitAid, I asked friends for feedback. One friend told me I lurched less from side to side when walking. I did not know I lurched, but the GaitAid lessened it anyway. (I guess the lurching was part of the constant momentum that keeps me aloft when walking.)
Another friend said that my lower body was much less clenched and tense when moving. ( When I first got sick, my whole body was like a clenched fist, radically restricting movement. the spasms would not leave, despite stretches, massage, and the like. I am still unclenching, bit by bit. It takes a lot of persistence and experimenting). It has been a few months of using the GaitAid now, so I asked for more feedback. She said I am even more relaxed while walking, and walk in a rhythmic and more fluid manner.
Today after doing my GaitAid session, I had a strong sense of my feet and legs UNDER me, holding me up. Illness had made my feet somewhat numb, so today's experience gives me hope and motivation."
Francesca is available by phone, when health permits. Contact MediGait for her number.
The GaitAid device is a non-invasive, risk-free aid which brings about a lasting improvement in walking. The portable GaitAid unit straps to the patient's pants. A computer processor inside the device measures walking movement. The processor feedbacks the walking movement by providing visual and auditory cues through special glasses and earphones. To train with the GaitAid, one takes a walk for 5-30 minutes while wearing the device. The feedback mechanism provides rewarding stimuli to good movement making the training enjoyable. Patients often report high motivation during their training.
Often the improvement is immediate and build up during the first two to four weeks of daily practice. More difficult conditions such as Francesca's, require more time and preserverence in training over many months.
For more information about the GaitAid, including clinical trials, testimonials, videos and ordering information for a 30 day at home trial period, visit:
Contact Audrey Holmes-Baram
888-777-9906
support (at) medigait.com
###