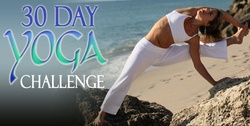 I lost 10 pounds last week following the 30 Day Yoga Challenge Program. Thanks Dashama!
Boca Raton, FL (PRWEB) August 18, 2009
Thousands of people globally are joining together online to improve their quality of life beginning September 1 in conjunction with National Yoga Month.
There are 3 levels of participation in the 30 Day Yoga Challenge, so anyone with a computer and internet can participate, from the comforts of their own home. Whether participants are just looking to lose weight, increase their flexibility, reduce stress or reduce the aging process, yoga can and will help them do this, and so much more. Especially when combined with the power of the proven 3 Stage Energy Ascension Diet Program, everyone who participates will achieve results.
"I lost 10 pounds last week following the 30 Day Yoga Challenge Program. Thanks Dashama!" Jenna Barber, Coral Springs, FL
Connect with the global community and to yoga sessions with Dashama each day for 30 days by registering at 30 Day Yoga Challenge. Special guest experts will be featured throughout the challenge to enlighten particpants about new techniques to enrich and enhance the quality of their life. Sessions are designed for beginners to advanced individuals, so everyone will benefit from participating.
For additional information on the Yoga 30 Day Challenge please visit
Perfect 10 Lifestyle
"Dashama, your Yoga Challenge was absolutely brilliant! I didn't have a deep relationship with yoga or a regular practice before, but YOU are so inspiring and loving, that I will certainly take myself to a whole new level and start living a happier life!" Kadri from Estonia
Perfect 10 Lifestyle is a life with balance between mind, body, spirit, emotions, and abundance in all areas. Utilizing ancient, proven techniques and wisdom enables us to harness the energy of the True Source for Healing, Expanding Awareness and Conscious Evolution. Some of this includes: Yoga, Meditation, Self Massage, Qi Gong, Breathwork, Healing Nutrition, Fun, Adventure and Love.
"I lost almost 10 pounds in a week following Dashama's Detox Diet. I've never felt better. Thanks Dashama!" Eddie Tarmey, Lighthouse Point, FL
###