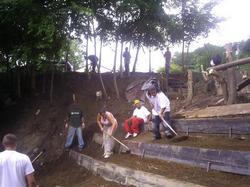 The kids have really risen to the occasion
Springfield, MA (PRWEB) August 18, 2009
Flowers springing from toilet seats. An outdoor amphitheater out of a junkyard. Inner city kids surrounded by violence building new lives, jobs and businesses.
What does it mean to graduate from Gasoline Alley? It means the crazy transformation of junk into treasure, toxic ugliness into renewal, tough youths into spirited workers with a new commitment to social causes. It means the improbable come true.
Known for years as Gasoline Alley, Albany Street in Springfield, MA is a post-industrial wasteland, pockmarked by huge oil tanks, rusty storage trailers, wrecking companies and abandoned properties. On the upside, it is also home to the Gasoline Alley Foundation, easily recognized by the crushed car turned nose up on the front sidewalk - a fitting icon for a business where reuse, sustainability (and eccentricity) are prized.
Here, funded by federal stimulus money and daily car washes, 30 young men and women ages 14 to 24, placed primarily through the New England Farm Workers' Council, have been participating in a Summer Youth Employment Program. They came for summer jobs, but what they got was the experience of a lifetime, during which they turned a wild, abandoned property into the amphitheater where they will graduate this Friday (August 21, 2009).
The Gasoline Alley Foundation is a non-profit organization that incubates small, sustainable and socially conscious businesses, offering them both space and development support. Its new executive director, Rob Thomas, has reinvigorated the organization, and decided to make it a Summer Youth Employment Program worksite to help expand the foundation further. "Gasoline Alley is where I incubated my business, Social(k), and with it running smoothly, I had a chance to give something back. Little did I know how much I would learn from the young men and women."
"The kids have really risen to the occasion," Thomas explains. "They are really getting it. They are getting the idea of sustainability and not just throwing things out. And they are bringing these ideas home to their families."
Thomas recounts a story of a mother visiting the worksite, and seeing her son sanding old boards that would soon become furniture. "She told me that before this summer, he never helped out around the house. Now, she said, it is amazing. He is always doing something and fixing something. And she said it is because of this place."
Another youth, Thomas said, confided that he felt he had nothing to live for - except this program.
"Many of the Gasoline Alley kids are the kids who were the hardest to place, who we didn't think we could get a placement anywhere. But now these same kids are showing up for work every single day with a smile on their faces," says Lisa Santiago, site supervisor for the New England Farm Workers' Council.
It is not that Gasoline Alley is immune from the world. The kids have continued to experience their share of trouble, including the murder of a family member, an attempted suicide, discrimination, violence and arrests. The difference is, they now have someplace where they are supported and are making positive choices for themselves and their community.
"They have bonded as a family and because the environment is so supportive," explains youth counselor Ashley Anderson of the New England Farm Workers' Council. "They have really been able to open up to their supervisors, who then can help them with other issues in their lives outside of the job."
And the site is perhaps a glimpse of stimulus money at its most effective. Four kids have obtained jobs directly related to their work at the program. One secured a private landscaping job after someone walking by saw the work he was doing on the Gasoline Alley grounds. In addition, green jobs are being created as the foundation expands its reach and continues to incubate new companies. One example is Metal Wood Common Good, which specializes in making furniture and countertops out of discarded or reclaimed building materials.
Job creation, green initiatives, sustainable business and young people with renewed hope and self-confidence. Other companies struggle to meet one or two of these objectives in the life of their business. At Gasoline Alley, they are all taking place over one powerful summer.
"This is the way Gasoline Alley is supposed to work. When everything is clicking, you just get it all," Thomas says, his voice rising with excitement. "These kids are just the beginning."
###