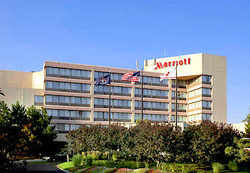 Livonia, MI (PRWEB) August 19, 2009
Football fans have the chance to have an affordable and exciting weekend when their favorite team plays. The Detroit Marriott Livonia is offering a special deal for travelers coming in to see the University of Michigan play Notre Dame. With special room rates and luxurious rooms, the hotel in Livonia MI is giving football fans something to be excited about.
When you stay at the best of the U of M hotels for the game, use the special rate code so you can get a discount for the entire weekend. Use the corporate promotional code UY9 to receive a discount for your weekend night stay.
The game takes place on September 12th at Michigan Stadium, and it is expected to be exciting. The two schools have a rivalry that has intensified over the years, which makes it exciting every time they match up.
With the special at the Marriott's hotel in Livonia MI, more sports fans will be able to come to town and cheer their favorite team on. Those that stay at the best of the University of Michigan hotels will get a deal and be close to the game. It will be a fun event for Fighting Irish and Wolverine fans alike, and because of that, the Marriott is making everyone's stay even more pleasant with the discounted rate.The College rate is available for many weekends with home games (both/either) university
For more information or to reserve a room at the discounted rate, visit http://www.marriott.com/hotels/travel/dtwli-detroit-marriott-livonia/ or call 1-800-228-9290 and use the corporate promotional code UY9 for your weekend night stay.
About the Detroit Marriott Livonia:
Mobile Travel Guide star recipient the Detroit Marriott Livonia is located near Rynearson Stadium, the University of Michigan and Vista Tech. It is also attached o the Laurel Park Place Mall, which has over 80 retailers and restaurants. The newly renovated rooms bring comfort to guests, so visitors are able to have an enjoyable time in their room or visit the many surrounding attractions.
###