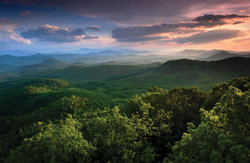 At a time when many developments are on hold
Asheville, N.C. (PRWEB) August 19, 2009
Located in Marion, NC, at Exit 85 on I-40, just east of Asheville--Tradition, LLC has opened the Queens Gap & Seven Falls Welcome Center. The rustically inviting, 4,000 square-foot building will provide a casual, yet informative, introduction to both of the Tradition, LLC master-planned communities, courtesy of Whitney Moody, the Welcome Center Manager.
"We're excited to now have the Welcome Center open for our 400 plus Members, guests and future Members," says Tradition's Keith Vinson. "Queens Gap and Seven Falls are the region's only two golf and river clubs, and our Welcome Center provides a comprehensive introduction and overview to both of these extraordinary properties." As an added incentive for prospects to come visit The Welcome Center between now and September 30, Queens Gap/Seven Falls is offering an "Autumn Discovery Package" that allows guests to enjoy a three-night stay in Western North Carolina, along with the opportunity to learn more about these two premier communities. The price for The Autumn Discovery Package is $229.
Queens Gap--which stretches out across 3,350 pristine acres in Rutherford and McDowell Counties--will feature a Jack Nicklaus Signature Golf Course and a number of world-class amenities including, a Wellness Pavilion, Outfitter's Lodge, Equestrian Center, Tennis Complex, and miles of walking and hiking trails. Seven Falls Golf & River Club, located on more than 1,600 acres just 20 minutes from Asheville, will be home to the first Arnold Palmer Premier Club--including a 19-hole Arnold Palmer Premier championship course and an unprecedented 60-acre practice campus with an Arnold Palmer Teaching Academy and 9-hole teaching course that features USGA greens.
As the management company for both properties, Tradition will be able to efficiently manage construction progress and better utilize resources at the two developments. "At a time when many developments are on hold," says Vinson, "Queen's Gap and Seven Falls are moving forward with the community development construction. We are currently working on both properties, laying water lines and building roads."
What's more, Seven Falls and Queens Gap are making a significant impact on the Western North Carolina economy by creating a number of jobs in both the construction and hospitality industries. Thanks to a sustainable construction timeline, progress is clearly visible in both communities. At Queen's Gap, construction of the Jack Nicklaus Signature Course is set to begin this fall, while at Seven Falls the finishing touches are now being put on the precedent-setting Arnold Palmer Golf Academy that is scheduled to open this year.
To learn more about Seven Falls and Queens Gap--the region's only Golf and River Clubs--contact 888.659.2505, or visit http://www.InspiredByTradition.com.
###