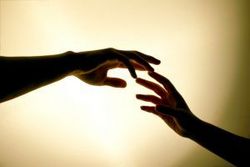 If you had told me that at the age of 52 that I would finally get up the nerve to crawl into bed with my mother, hold her and tell her that I love her, I would have said you were nuts.
San Francisco, CA (PRWEB) August 19, 2009
As millions watched the service for Eunice Shriver, they heard her daughter Maria say "If you had told me that at the age of 52 that I would finally get up the nerve to crawl into bed with my mother, hold her and tell her that I love her, I would have said you were nuts." Maria Shriver echoes the concern of millions who don't know what to do as a loved one is dying. Their fears are intensified by the current health care reform discussion and misleading images of pulling the plug on grandma.
Stan Goldberg, Ph.D., author of the critically acclaimed memoir, Lessons for the Living: Stories of Forgiveness, Gratitude, and Courage at the End of Life, wrote in the examiner.com that we as a nation don't know how to provide peace to our loved ones as they die. The current debate on health care reform is increasing the fears of those who are acutely or terminally ill and their caretakers.
Goldberg's15 suggestions do much to calm these concerns and are based on his seven years as a hospice bedside volunteer where he helped more than 250 children and adults pass on. They range from the simplicity of sitting next to someone who is laying in bed-rather than standing over them-to the poignancy of telling a dying loved one that it's all right to leave. In a recent five minute television interview, he explains why he chose to become hospice volunteer.
Honored as the Hospice Volunteer Association's 2009 Volunteer of the Year, He currently volunteers with Pathways Home Health Care and Hospice in San Francisco. Stan writes and lectures on end of life issues throughout the world. All of his writings and presentations are based on his experiences and insights gained when people close to death invited him into their lives.
USAToday calls his book inspiring and compassionate. The director of This I Believe-PBS says it contains insightful awareness. Best selling author Roshi Joan Halifax, calls it wonderfully wise and deeply personal. A reviewer from Myshelf.com says it will change the way people live out the rest of their lives. Since the book's release in June, it has consistently been a best-seller in Amazon's hospice category.
Stan is a Professor Emeritus at San Francisco State University and a prostate cancer survivor who has been lauded for his courage to face death, both professionally and personally. Rather than searching inward, he chooses to help others die. He has written extensively on end of life issues, loss, and grief, appeared on numerous radio and television shows and lectured throughout the world. He is also the death and dying expert on Examiner.com-San Francisco, with blogs from his own site carried on many websites and in online magazines. He has authored seven books, more than 100 articles both on the internet and in bound national magazines, ranging from humorous ones in Saltwater Flyfishing and Horse and Rider, to deeply spiritual ones that are found in Shambhala Sun Magazine and his tribute to Peter Jennings in USAToday.
The message in all of his writing was summarized in the 15th Century book Ars Moriendi, or Art of Dying Learn to die and you shall learn to live, for there shall be none who learn to truly live who have not learned to die.
Stan is available for media interviews, workshops, and authoring of articles on end of life, change, and loss. He is currently working on a new book--I Want My Life Back: Regaining Joy After a Sudden Loss--and lives in San Francisco with his wife of 39 years. Literary, dramatic and foreign rights inquires should be directed to Ms. Chris Morehouse at Dunham Literary. All other inquiries should be made directly to Stan.
###