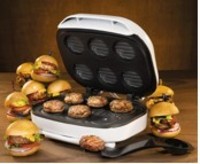 Sliders are very popular now because people are more health conscious and it is a way to control the portion of foods people eat in their diets
Green Bay, WI (PRWEB) August 19, 2009
Nostalgia Products Group, LLC is pleased to announce the release of the first-ever electric slider grill for home use. Dubbed the "All-League Slider™," this product grills up to six delicious slider burgers at a time in just 1-3 minutes. The non-stick surface enables the user to cook a variety of meats including sirloin, ground soy, turkey, and chicken or crab cakes.
The All-League Slider™ (SM-500) is made of sturdy, die-cast aluminum and comes in both a white and a black model. Included with each model are a removable grease tray and a forming tool spatula. The forming tool spatula is designed to both assist in creating slider-sized patties for grilling and to easily remove fully cooked patties from the grill plate. Health-conscious consumers will be especially pleased to note that as their meat cooks, fat and grease drips away and drains to the removable tray.
At merely 3.8 lbs, and under 10 inches in length and width, the portability and size of the All-League Slider™ make it ideal for taking to the office or as a gift for students heading off to college.
This exciting new product will be available exclusively through select retail outlets for a suggested retail price of $29.99.
"Sliders are very popular now because people are more health conscious and it is a way to control the portion of foods people eat in their diets," says Gregg Bond, President of Nostalgia Products Group, LLC.
Bite-sized burgers are cropping up on menus and in the collective culture-consciousness via radio and television ads broadcast across the country. Bond adds, "Almost all chain and regular restaurants have added sliders to their menus for an appetizer to share or gourmet versions for a meal."
Sliders are a fun food, perfect for families and entertaining, making the All-League Slider™ an ideal addition to the Nostalgia line of products. Never before have individuals had the opportunity to satisfy their craving for these tasty treats by grilling them in the comfort of home.
The ALL-LEAGUE SLIDER™ is distributed by:
Nostalgia Products Group, LLC
1471 Partnership Dr.
Green Bay, WI 54304-5685
About Nostalgia Products Group, LLC:
At the Nostalgia Products Group, LLC, we design, manufacture and market the Nostalgia Electrics brand of small electric appliances. We develop a wide range of innovative products to excite consumers and retailers alike.
We sell through all major channels of distribution from both within the United States and worldwide. Nostalgia Electric brand items are available at most fine retail outlets. Internationally, our products carry the GS and SSA electrical approvals. We ship to over 30 countries worldwide.
Our services include product development, sales, marketing, warehousing and distribution. Please visit us online at: http://www.nostalgiaelectrics.com.
###