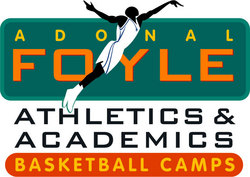 Oakland, CA (PRWEB) August 19, 2009
Athletics and Academics, a youth basketball program designed to redefine the student athlete is gearing up for its "back to school" one-day super camp being held on August 22 in San Ramon. NBA player and Colgate graduate Adonal Foyle, founded Athletics and Academics to educate today's youth on the importance of becoming both an excellent athlete and student. The camp will take place at the Iron Horse Middle School, located at 12601 Alcosta Boulevard in San Ramon, on Saturday, August 22 from 10:00 a.m. to 4:00 p.m.
Students of all skill-levels will have the opportunity to learn and hone in on their basketball skills including scoring, rebounding, defensive slides, and blocking shots. The camp is designed for boys and girls ranging in ages from 7-17. To ensure all students receive the best camp experience, they are divided into four age groups; 7-9, 10-12, 13-15, and 16-17. Each student attending the camp will receive a free t-shirt, backpack and lunch.
An integral part of the Athletics and Academics camp is the emphasis on the importance of receiving a great education. In addition to a keynote discussion by Adonal Foyle, academia, student-athletes, and coaches are personally invited to present and speak to the students. This year, Athletics and Academics is thrilled to have a seasoned panel of speakers:

"I'm thrilled with the exceptional line-up of speakers we have to present at this years'
Athletics and Academics camp," said Adonal Foyle. "Students will have the opportunity to sharpen their basketball skills and learn from well-respected athletes and coaches on the importance of balancing athletics and academics."
There is still an opportunity for youth to sign-up for the Athletics and Academics one-day super camp. Registration is $75 per child. In addition, sibling discounts are available at $50 when 2 or more campers sign-up from one family (limit 4 per household). To register for the camp, please visit http://www.athleticsandacademics.com/signup.html
About Dr. Jamie Williams
Dr. Jamie Williams is the first director of athletics at the Academy of Art University in San Francisco. Dr. Williams is a graduate of the University of Nebraska, where he was an All-American and an All-Big Eight Conference football player, earning an undergraduate degree in Broadcast Journalism. He continued his education by completing a Masters of Science in Mass Communication from San Jose State University and receiving a Doctorate of Education in Organization and Leadership from the University of San Francisco. Professionally, Dr. Williams played 12 years in the National Football League as a tight end for the San Francisco 49ers, Houston Oilers, Los Angeles Raiders and St. Louis Cardinals. He won a Super Bowl Championship in 1990 with the San Francisco 49ers.
About Bob Heckmann
Bob Heckmann is a certified Positive Coaching Alliance (PCA) trainer and has conducted over 275 workshops covering leadership development, coaching, and the mental side of competition. Through his work with schools and around the country, he helps leaders, coaches and parents empower student-athletes to be successful in life by emphasizing character education through sports. In addition to being a PCA trainer, Heckmann has spent the past 20-plus years coaching basketball at the high school and college levels. He holds a Bachelor of Science in Economics from the University of San Francisco. For more information about Positive Coaching Alliance, please visit http://www.postivecoach.org.
About Jamal Boykin
Jamal Boykin, senior forward at Cal is a native Californian who began his collegiate career at Duke before transferring to Cal midway through the 2006-07 campaign. Boykin is the leading rebounder, starting all 33 games and holds a season shooting percentage of .529 (129-244) the best on the Cal Basketball team. Boykin holds a career field goal percentage of .521, ranking sixth all-time in school history. Off the court, Boykin is well recognized for his creation of 44 drawings of President Obama which were showcased in an art exhibit during the off-season.
About Athletics and Academics
Athletics and Academics, was founded in 2006 by NBA player and Colgate graduate Adonal Foyle. The basketball camp, educates youth ages 7-17 on how to become both an excellent athlete and student. Athletics and Academics Basketball Camp teaches student athletes the importance of playing the sport right, as well as engaging them intellectually to different elements off the court. Adonal plays a hands-on role throughout the entire camp emphasizing the many different realms of basketball.
For more information about the Athletics and Academics basketball camp, please visit http://www.athleticsandacademics.com.
###