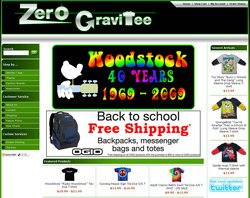 We are rolling out the site with 300 or so designs
Cranford, NJ (Vocus) August 19, 2009
Panda Apparel launches ZeroGravitee.com, its newest website to include an array of colorful themed graphic t-shirts and original patterns to brighten up and add character to the everyday wardrobe.
The roll out of this newest site includes rock n' roll bands, licensed characters, funny quotes and a large assortment of tie-dye t-shirts. "We are rolling out the site with 300 or so designs" says Scott Marino, one of the partners at Panda Apparel, "and are looking to increase that quickly". Society views clothing as an outward expression of a person's individuality, ZeroGravitee's fun designs channel that expression outward.
The website categorizes its shirts by gender/age and creative themes. Under each theme is a fun category that turns vintage classics into innovative designs. Every t-shirt offers unique artwork imprinted on a canvas of quality fabric.
"We are actively recruiting young artists to design shirts with classic and cutting edge designs" says partner Donna Marino. ZeroGravitee is partnering with local artists to give them exposure for their work. "The designers we have been speaking to are so excited. They can't wait to get their art onto shirts." Says Donna.
I addition to its retail line ZeroGravitee.com also provides full service traditional screen printing and the eco-friendly direct-to-garment digital printing. They work closely with businesses, schools and organizations to provide quality, custom designed apparel.
Future plans include contests where up and coming designers will have an opportunity to have their designs showcased on ZeroGravitee. Also, watch out for limited edition styles from renowned artists expressing their work on ZeroGravitee.com.
Zero Gravitee is a division of Panda Apparel dedicated to providing the top quality custom designed apparel with low prices and outstanding customer service. Owners, Scott and Donna Marino are dedicated to inspiring individuals to proudly show off their personality though Zero Gravitee.
Panda Apparel LLC was formed in 2007 and is owned and operated by Scott and Donna Marino. The two share over 20 years experience in the apparel industry and 10 years of online specialty retailing. As an international business, Panda Apparel LLC is committed to improving the worldwide state of human rights and environmental degradation.
# # #