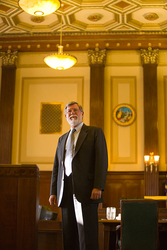 Asheville, NC (PRWEB) August 25, 2009
Howard L. Gum, senior managing partner in the Asheville firm of Gum, Hillier & McCroskey, PA, has been chosen one of Business North Carolina's 2009 Legal Elite, to Law & Politics' Super Lawyers North Carolina and to Best Lawyers 2009.
LEGAL ELITE: The Legal Elite List is a peer review list sponsored by Business North Carolina Magazine. The magazine has compiled and published the list since 2002, however, family law was not added as a category until 2009. This year's list includes 621 lawyers from 14 fields of practice representing a little more than 3% of lawyers in the state. Mr. Gum was the only lawyer in Western North Carolina to be so honored in the field of family law. Business North Carolina's Legal Elite is unique as the only award that gives every active lawyer in the state the opportunity to participate in the statewide voting process.
BEST LAWYERS: Best Lawyers compiles lists of outstanding attorneys by conducting exhaustive peer-review surveys in which thousands of leading lawyers confidentially evaluate their professional peers. In the U.S., Best Lawyers publishes an annual referral guide, The Best Lawyers in America, which includes 39,766 attorneys in 80 specialties, covering all 50 states and the District of Columbia. Founded in 1981 and first published in 1983, Best Lawyers is the oldest lawyer-rating publication in the U.S., and the gold standard for accuracy and integrity. The current, 16th edition of The Best Lawyers in America (2010), is based on more than 2.8 million detailed evaluations of lawyers by other lawyers. Mr. Gum was first selected to this Best Lawyer's list in 1989. Of the more than 19,000 lawyers in the state, 19 family law attorneys appear on the Best Lawyers in North Carolina.
SUPER LAWYERS: Mr. Gum's dedication and professionalism in the field of family law has also been recognized by the Peer Review group, Super Lawyers, as an outstanding lawyer in his field. In selecting attorneys for Super Lawyers, Law & Politics employs a rigorous, multiphase process. Peer nominations and evaluations are combined with third party research. Each candidate is evaluated on 12 indicators of peer recognition and professional achievement. Selections are made on an annual, state-by-state basis. Super Lawyers inducts only 5% of the attorneys in any given state. Mr. Gum has been selected to Super Lawyers annually since 2006, its first year offering peer review recognition in North Carolina.
Mr. Gum is a fellow in the American Academy of Matrimonial Lawyers since n 1992. AAML Fellows across the United States are generally recognized by judges and attorneys as preeminent family law practitioners with a high level of knowledge, skill and integrity. There are less than 1,700 lawyers in the United States that have been granted this prestigious fellowship. He has been a member of North Carolina's Legal Specialization Committees in one form or another since its inception, guiding the state in establishing protocols for legal specialization in all areas of practice. He became certified as a Family Law Specialist in 1989, the first year that the North Carolina Board of Legal Specialization offered certification in Family Law.
Gum, Hillier & McCroskey, P.A. is a North Carolina law firm specializing in matrimonial law and bankruptcy. The firm has a long record of dedication to professionalism in the practice of law and their community. In addition to Mr. Gum's honors, Patrick McCroskey's, also a partner in the firm, was inducted to the AAML in 2009 as well as to Super Lawyers' North Carolina Rising Stars and Best Lawyers, both in 2009 as well. Mr. McCroskey is a family law specialist certified by the North Carolina Board of Legal Specialization in 2003. For more information about Mr. Gum or the firm's commitment to legal excellence, visit their website at http://www.gumandhillier.com.
# # #