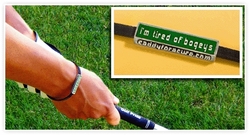 I'm Tired of Bogeys
Santa Monica, CA (Vocus) August 19, 2009
Tired of bogeys? Then you will totally relate to the new "I'm Tired of Bogeys" bracelet. It's a fun golf accessory with a very serious purpose because it raises money for charity. And, at just $10 per bracelet, with half the sale ($5) going to nonprofit Caddy For A Cure, every golfer should own one.
The new bracelet is the brainchild of "I'm Tired of" (ITo), the company behind the popular I'm Tired of bracelets and other products, which benefit more than 14 charities fighting important world causes, like world hunger, animal cruelty, cancer and charities fighting important world causes, like world hunger, animal cruelty, cancer and discrimination. Made from recycled tires and metals with a golf course green finish on top, I'm Tired of Bogeys is one of the first bracelets to take a more light-hearted approach, but with the same philanthropic goals.
"Caddy For A Cure has a really innovative approach to fundraising," said Dan Hoffman, ITo co-founder. "As an avid golfer, myself, I was immediately drawn to what they were doing. Their program allows anyone to enjoy the experience of a lifetime, by paying for the opportunity to caddy for a Tour professional. The proceeds are then donated to several wonderful charities. I just knew we had to find a way to work with them and the I'm Tired of Bogeys concept was a natural. With 27 million golfers in the US alone, there is a huge audience for the bracelets. Think of what we could accomplish!"
Caddy For A Cure directly supports three different charities: the Fanconi Anemia Research Fund, the Wounded Warrior Project and the PGA TOUR Caddy Benevolent Fund. Donations are also made to the PGA TOUR player's charity of choice and to local charities picked by the PGA TOUR host sites. About 80 professional players have participated in the Caddy For A Cure program over the past six years, including Phil Mickelson, Fred Couples, Padraig Hamilton, Jim Furyk, Boo Weekley, Anthony Kim, Stewart Cink, Ernie Els, Sergio Garcia, Zach Johnson, Davis Love III, Adam Scott, Vijay Singh and Camilo Villegas.
"These bracelets are fantastic and while they certainly make a statement about the game, it really makes a statement about the heart," added Russ Holden, Founder and CEO of Caddy For A Cure, who is the former caddy for the top winner in PGA European Tour history and a two-time Masters champion, Bernhard Langer. "Many far less fortunate will benefit by golfers and their dislike for bogeys. What a perfect gift idea!"
The "I'm Tired of…" campaign was launched less than a year ago by brother and sister team, Dan Hoffman and Carrie Pollare, to fight against the world's issues that we are all tired of, like animal cruelty, BSL (breed-specific legislation), discrimination, world hunger, global warming, cancer, diabetes and so many more. The fashionable bracelets are made from recycled tires and metals, creating a fun play on the word, tired, and cost just $10, so anyone can afford them. Then half the sale ($5) from each one is donated to charities the company is aligned with that support each cause.
To order or find out more about Caddy For A Cure and the I'm Tired of Bogeys bracelet, go to http://www.ImTiredOnline.com. Press contact is Carrie Pollare, 310-314-3660.
###