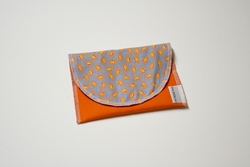 Karen Whorton and I wanted to combat the mounting pile of plastic bags our family and friends were using every day, as well as eliminate the worldwide impact on plastic bag recycling and littering
Seattle, WA (Vocus) August 20, 2009
ReUsies offers a reusable alternative to plastic sandwich and snack bags. These will help to eliminate the estimated 500 billion to 1 trillion plastic bags that are used and discarded worldwide each year. Plastic bags often end up as litter and are difficult to recycle. ReUsies are 100% cotton lined with water-resistant nylon (lead, BPA, and phthalate free). They are secured with durable Velcro closures that make them easy to open, yet hard for food to fall out of.
"Karen Whorton and I wanted to combat the mounting pile of plastic bags our family and friends were using every day, as well as eliminate the worldwide impact on plastic bag recycling and littering," states Becky Harper, Owner of ReUsies. "Our family alone was throwing away about ten plastic bags each day so we decided it was time to do something about it."
ReUsies are a Long-term Replacement Solution to Plastic Bags. They are designed with durability and long life in mind. They are also made with soft cotton patterns on the outside and water-resistant nylon on the inside, and will last between one-three years.
These reusable bags come in two sizes, snack (6" x5") and sandwich (7.5" x 6") versions. The snack bags can be adjusted to a smaller size by folding up the base of the bag and securing it with the extra Velcro flap on the back and are very easy to clean.
ReUsies believes in their product and the positive impact it has on the environment. They continue to actively donate a portion of their profits to educational and environmental programs.
"It seemed odd to have single-use sandwich bags that we throw in the trash every day, when almost everything else these days is multi-use. We reuse shopping bags, water bottles and lunch boxes, yet in this area there is still so much waste," says Karen Whorton, Owner of ReUsies. "We want to have ReUsies right there on the shelf next to the plastic wrap and plastic sandwich bags."
The company's goal is to make ReUsies a staple in each American household and in local stores. As the company continues to grow, they are committed to adding additional designs and products to their selection to offer reusable, waste free solutions for each family.
About ReUsies
ReUsies are a reusable alternative to plastic sandwich and snack bags. They can replace the thousands of plastic bags used by families each year. ReUsies are designed with soft cotton patterns on the outside and water-resistant nylon on the inside. ReUsies are durable, versatile in use, and easy to clean. A range of designs is available to appeal to all family members. In time ReUsies hopes to become a part of the American lifestyle.
Contact:
Nicki Pappaianou
ChicExecs PR
760.992.9113 x709
http://www.chicexecs.com
ChicExecs PR is an "out of the box" PR company which represents over 70 clients. ChicExecs has created an innovative approach to PR dedicated to helping small-medium business receive media coverage. Our revolutionary automated system is changing the face of PR. For more information vist http://www.chicexecs.com.
###