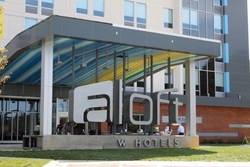 We are thrilled to introduce the Aloft to Linthicum and the BWI Airport. Not only does it provide this growing community with an ultra-chic lodging alternative, but it also offers a new and refreshing experience unlike anything currently seen in the area.
Linthicum, MD (Vocus) August 19, 2009
Starwood Hotels & Resorts Worldwide, Inc. (NYSE:HOT) and its stylish, new lifestyle brand, Aloft hotels, today announced the opening of the Aloft Baltimore-Washington International Airport, a bold new lodging alternative in the Linthicum area. Owned by The Buccini/Pollin Group and managed by PM Hospitality Strategies, Inc, Aloft BWI offers 155 spacious, loft-like rooms, accessible technology and a hip, urban attitude.
An Open House Dedication was held last Thursday at the Aloft BWI to welcome the new brand to the Linthicum lodging market. After a brief ceremony, the event broke through the conventional hum-drum of dedications in Aloft-fashion with the burial of a time capsule filled with memorabilia of the current time period. Items included the iPhone 3G S, Michael Jackson CD's, a Barack Obama poster and newspaper articles about current events. The time capsule will be re-opened on the tenth anniversary of the hotel. Afterward, the crowd enjoyed munchies and refreshments before, during and after photographs and tours of the new hotel's sassy and savvy space. Several chambers and organizations attended the event, including the Anne Arundel Chamber of Commerce, Northern Anne Arundel Chamber of Commerce,Baltimore Chamber of Commerce, Baltimore-Washington Corridor Chamber of Commerce, BWI Area Convention Visitor's Association, Annapolis & Anne Arundel Convention of Visitor's Association, and Annapolis Tourism Board. Others groups present were esteemed clients and members of the media, such as the Baltimore Business Journal, The Business Monthly News, MD Gazette, Fox 45 and Wbal TV.
"Aloft brings energy to the Linthicum area by offering the opportunity to mix and in mingle in a space that is stylish, fun and affordable," said Brian McGuinness, Senior Vice President of Aloft hotels worldwide. "With its urban design aesthetic and loft-like rooms, Aloft BWI provides a distinct and exhilarating experience targeted to younger, style-conscious travelers."
The Aloft BWI is situated less than a mile away from the main terminal of the Baltimore-Washington International Airport and is convenient to many corporate offices. Some of these companies include Lockheed Martin, Northrop Grumman, BP Solar, Raytheon, Titan, Compaq Computer Corp., Boeing, Foundation Coal Corp., Hydro Aluminum, Ciena, Coca Cola and KFC Yum! Brands. The hotel is also 8 miles from Fort Meade and a short drive from numerous Federal Agencies in Washington DC.
Located just outside downtown Baltimore, the Aloft BWI is the perfect place to play and stay. Hotel guests have easy access to all of the area's attractions, including Baltimore's Inner Harbor, the National Aquarium, M&T Bank Stadium (Home of the Baltimore Ravens), Oriole Park / Camden Yard (Home of the Baltimore Orioles), the Baltimore Arena, and the National Security Agency. Shoppers will want to take in the Arundel Mills Mall, which is the second largest mall in the state of Maryland with over 225 shopping and dining options, including entertainment venues such as Medieval Times and Dave & Busters. And if museums and monuments tickle your fancy, guests are a short drive from the Port Discovery Children's Museum, the Baltimore Maritime Museum, the American Visionary Art Museum, Fort McHenry National Monument, the Baltimore Museum of Art, the Babe Ruth Museum, the Edgar Allan Poe House and the Maryland Science Center. The Aloft BWI is also convenient to Washington, DC and 25 miles from historic Annapolis.
"We are delighted to partner with Starwood to open this hip, new lodging alternative in the Linthicum area," said Dave Pollin. "With its stylish accommodations and lively social scene, Aloft appeals to travelers whose lodging selection reflects their constantly evolving lifestyle."
A Vision of W Hotels, Aloft is a new destination sensation featuring loft-inspired design, accessible technology, and a stylish urban attitude.
Convenience Meets Modern Design: The hotel's spacious guest rooms with nine-foot ceilings make you feel right at home with extra large windows, iPod docking stations and FREE high-speed wireless internet. Each room is a combination high-tech office and entertainment center equipped with a one-stop connectivity solution for multiple electronic gadgetry all linked to a 42" flat-panel, HD television. Ultra-comfortable beds are either king- or queen-sized "platform" beds (no small standard beds in this hotel). The bathroom experience is true to its "loft" billing with sensibly-planned dressing wardrobe, a refrigerator under the vanity, counter-top bowl sink, oversized walk-in showers and amenities created by Bliss® Spa. Like the rest of the hotel, the guest rooms feature ultra-modern touches and a fashion -forward design.
Energizing public spaces draw guests from their rooms. Aloft is the place to socialize — just step into the re:mix to relax and chat, work on your laptop or shoot a few games of pool. Catch up with friends, or catch the big game on the four-panel LCD TV screening wall. Above the screening wall is an LED electronic message-ticker providing the latest headlines in the news.
Ready for cocktail hour? The adjacent W xyz bar has great drink specials and tasty bar fare while listening to high-fidelity Bose® surround-circuitry speakers.
Time for a snack? The re:fuel shop offers 24-hour grab-and-go savory and healthy foods like sandwiches, salads and fresh fruit along with sweet bites.
Unlike typical hotels, Aloft BWI provides wireless High Speed Internet Access throughout the entire hotel from entry to pool/fitness to guest room. Guests have the freedom to surf late into the night…unlimited service is complimentary for every guest!
Aloft BWI also offers meeting space via its tactic boardroom and an adjacent conference center operated by PMHS.
The splash indoor pool and re:charge fitness center complete the guest's overnight experience. Guests may "pop in" at any hour thanks to 24-hour keycard access. re:charge provides a full cardio collection: stationary bikes, treadmills, stair-climbers, and elliptical machines from Life Fitness®. A stretching zone gives yogis space to limber up. Or they can fire up their muscles with strength machines and free weights. When you're ready to cool down, slip into the splash pool next door for a quick dip.
And as an added convenience — self check-in kiosks allow guests to print out their next flight's boarding pass!
Aloft is also committed to the environment and launched a see greensm program, which promotes ecologically friendly practices, products and services both inside and outside the hotel. For example, natural materials like cork and sustainable wood veneers are integrated into the hotel's design. In guest rooms, in-shower product dispensers produce less landfill waste—non-biodegradable bottles, be gone! All interior spaces in the aloft are smoke-free. On the outside, our walk-out courtyard offers the chance for a breath of fresh air and we even provide preferred parking for hybrid cars. Let's all go green!
"We are thrilled to introduce the Aloft to Linthicum and the BWI Airport. Not only does it provide this growing community with an ultra-chic lodging alternative, but it also offers a new and refreshing experience unlike anything currently seen in the area." said Greg Miller, President and CEO of PMHS. "Aloft offers a compelling combination of creativity, culture, and fun."
The Aloft BWI is located at 1741 West Nursery Road, Linthicum, MD, 21090. For more information on the hotel, please visit http://www.aloftbwi.com.
About Starwood Hotels & Resorts Worldwide, Inc.
Starwood Hotels & Resorts Worldwide, Inc. is one of the leading hotel and leisure companies in the world with approximately 900 properties in more than 100 countries and 155,000 employees at its owned and managed properties. Starwood Hotels is a fully integrated owner, operator and franchisor of hotels, resorts and residences with the following internationally renowned brands: St. Regis®, The Luxury Collection®, W®, Westin®, Le Méridien®, Sheraton®, Four Points® by Sheraton, and the recently launched AloftSM, and ElementSM. Starwood Hotels also owns Starwood Vacation Ownership, Inc., one of the premier developers and operators of high quality vacation interval ownership resorts. For more information, please visit http://www.starwoodhotels.com.
About Aloft.
Infused with the DNA of W Hotels, Aloft is a new destination sensation featuring loft-inspired design, accessible technology and a stylish urban attitude. Designed in conjunction with world-renowned David Rockwell and the Rockwell Group, Aloft offers atmospheric public spaces where guests can mix and mingle, read the paper, work on laptops, play a game of pool or grab a drink with friends at the re:mixSM communal lobby area and w xyzSM bar. The re:chargeSM fitness center and splash pool give travelers options to de-stress and re-energize, while re:fuel by aloftSM offers sweet, savory, and healthy food, snacks, and beverages to grab & go, 24-hours a day.
Aloft opened its first hotel in 2008 and expects to open 500 properties worldwide in the next five years.
For more information on Aloft, please visit http://www.alofthotels.com and http://www.explorealofthotels.com.
# # #