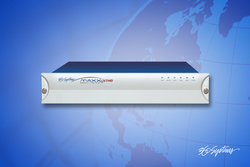 Thousand Oaks, CA (PRWEB) August 20, 2009
360 Systems announced that the 2470HD Time Delay will be introduced at IBC 2009 (http://www.ibc.org), September 11-15, RAI Amsterdam, stand 10.A38. 360 Systems' 2470HD Time Delay provides TV broadcasters with a reliable and economical way to compensate for time-zone differences. For instance, feeds to affiliates in western time zones can be delayed, or a local station could delay incoming programs to accommodate their schedule. Delays up to 24 hours can be programmed, allowing storage of a full day's content for emergency use.
A visually lossless form of JPEG-2000 encoding produces outstanding image quality, without the blocking or motion artifacts associated with MPEG. Program inputs and outputs are HD-SDI, paralleled with HDMI outputs for convenient monitoring.
Sixteen embedded audio channels let the 2470HD handle even the largest projects. Alternately, two discrete analog audio channels can be connected through rear panel XLR connectors. 360 Systems Bit-for-Bit® data handling ensures correct playback of Dolby®, or other forms of surround sound.
The 2470HD Time Delay's intuitive GUI allows simple set-and-forget operation. Users can simply program a delay of up to 24 hours, and video, audio and data will be captured and replayed with single-frame precision. Settings are automatically recalled each time power is applied.
Because the 2470 HD stores high-value content, a RAID-5 disk array is used for enhanced reliability. Drives are easily replaced from the front without removing the unit from the rack. Exceptional reliability is to be expected, as the 2470HD time delay is based on field-proven designs operating in thousands of units worldwide.
FEATURES

HD-SDI inputs and outputs
Delays from 6 sec to 24 hours
Visually lossless image quality
HDMI monitor outputs
16-channel embedded audio
2-channel +4 dBu audio I/O
720p or 1080i at 59.94 or 50 Hz
RAID 5 drive array
Non-volatile system configuration
GUI for simple operation
Pricing and Delivery
The 2470 HD is available for ordering and will be shipping mid-September. Prices start at 12,500 Euros.
Detailed information on model 2470 HD, as well as 360 Systems' MAXX video server products, can be found on the company's website, http://www.360systems.com. To speak with someone directly, contact the company at +1.818.991.0360 or e-mail sales@360systems.com.
360 Systems products will be on exhibit at IBC 2009, September 11-15, RAI Amsterdam, stand 10.A38.
About 360 Systems
360 Systems is a leading developer of digital video and audio products for broadcasting and Pro A/V. The company has a 37-year legacy of producing award-winning hardware solutions that bring efficiency and economy to content delivery. Brands include Digicart®, Instant Replay®, Image Server™ and MAXX™ families of video servers.
360 Systems is a privately owned corporation based in Westlake Village, CA. More information is available at http://www.360systems.com.
Documents and photos can be downloaded from the OnRamp Communications Press Room. http://www.onrampcomm.com/press_room.php?companyID=29&PRID=
###