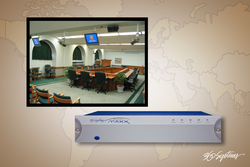 The 360 Systems server allowed us to simultaneously record two legislative committees at one time, and play out while recording
Westlake Village, CA (PRWEB) August 27, 2009
Broadcasts that deliver real-life government drama to Saskatchewan's citizenry is the product of an ace production team that steps into action when the gavel calls the 3-month sessions to order each Spring and Fall. From capture to playout, a 3-man team produces the proceedings of the Legislative Assembly that are televised via local cable companies, Sasktel Max and Bell ExpressVu, as well as streamed from the legislature's website, http://www.legassembly.sk.ca/broadcast/default.htm.
Ihor Sywanyk, Kerry Bond and Ed Seneshen are the talented trio responsible for operations, maintenance, design and installation of all aspects of the Assembly's technical facilities. Beyond that, they also research and implement new technologies to improve studio efficiency and the viewer experience.
"We are currently in the midst of digital migration to SDI," explained Ihor Sywanyk, senior broadcast technologist for the Assembly in Saskatchewan, Canada. "We're starting to introduce SDI equipment into our analog system, and will be using some conversion equipment until complete SDI is achieved."
In their pursuit of improving workflow efficiency, the team discovered the 360 System video servers at the NAB show in Las Vegas (http://www.nab.org). They were impressed with the ease of operation, simple user interface, large storage capacity and smart economics. "Depending on storage configuration, it's a nice advantage to be able to store an entire legislative session."
"The 360 Systems server allowed us to simultaneously record two legislative committees at one time, and play out while recording," said Sywanyk. "The servers integrated well with our Leightronix TCD/IP controller/scheduler for automated playback. We schedule the servers for unattended replay of daily proceedings and committees on mornings and weekends."
Legislative proceedings and meetings are recorded to a pair of servers located in two control rooms. One server records from the main control center, and a second records from the committee control center. Both are set to record on channel one and playout on channels two and three. The totally tapeless facility is currently being configured for MXF file transfers.
The Legislative Chamber uses a 5-camera Shotoku robotic system (Hitachi cameras) and the Committee Room is outfitted with five Panasonic robotic cameras. The control rooms are both equipped with Ross video switchers, Harris character generators, Pioneer PRV-9000 and PRV-LX1 DVD recorders for archive and backup, and a Kramer router.
"Playlists and clip editing are features that we use frequently", Sywanyk points out. "In addition to the live and streamed programming, we provide members of the Assembly with DVDs of speeches and special ceremonies which are easy to locate, cue and play."
Still to come, Sywanyk sees a transition to HD some time in the future.
360 Systems products will be exhibited at IBC 2009 at the RAI Center in Amsterdam, in Hall 10 stand A38.
360 Systems MAXX-HD Servers
The MAXX family of HD and SD video servers continues 360 Systems' tradition of designing with advanced technology for enhanced performance, exceptional features, and improved prices.
About 360 Systems
360 Systems is a leading developer of digital video and audio products for broadcasting and Pro A/V. The company has a 37-year legacy of producing award-winning hardware solutions that bring efficiency and economy to content delivery. Brands include Digicart®, Instant Replay®, Image Server™ and MAXX™ families of video servers.
360 Systems is a privately owned corporation based in Westlake Village, CA. More information on its products is available at http://www.360systems.com.
Documents and photos can be downloaded from the OnRamp Communications Press Room. http://www.onrampcomm.com/press_room.php?companyID=29&PRID=
# # #