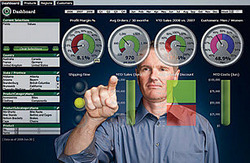 Companies today cannot afford to base decisions on inaccurate or incomplete information. With our solutions and consulting, they can make more informed decisions to help them prosper
West Palm Beach, FL (PRWEB) August 20, 2009
Templeton Consulting, a leading provider of technology and business process solutions in South Florida and the Northeast U.S., today announced a strategic partnership with, QlikTech, the world's fastest-growing Business Intelligence (BI) company
"This partnership allows our clients to greatly benefit with the combined power of QlikView and Templeton Consulting's rich expertise in providing solutions focused on enabling businesses to leverage their IT implementations to deliver real-time business value," said Chris Gryskiewicz, CPA, Executive Vice President of Templeton Consulting.
As businesses look for new ways to increase service levels, reduce operational costs and improve productivity, deriving intelligence/answers and ultimately basing decisions from business data will be a key growth driver. QlikTech's award-winning business analysis solution, QlikView puts business users in control, lets them explore their data with unprecedented freedom, and get the answers they need to take immediate action. QlikView uses patented "associative analysis" to connect data from any source, and it exploits "in-memory" technology for rapid analysis and scalable deployment.
"Companies today cannot afford to base decisions on inaccurate or incomplete information. With our solutions and consulting, they can make more informed decisions to help them prosper," said Gryskiewicz. "We believe a simple yet powerful BI analysis tool, like QlikView, complements our own offerings and provides our clients with a solution that clearly demonstrates a financial return to their business."
About QlikTech
QlikTech is the world's fastest-growing Business Intelligence (BI) company. Its flagship QlikView product delivers instant business answers, enabling users to easily explore their data without limits. Unlike traditional BI, QlikView delivers immediate value with payback measured in days or weeks rather than months, years, or not at all. It is the only BI offering that can be deployed on premise, in the cloud, or on a laptop or mobile device--from a single user to the largest global enterprise.
Through QlikView's disruptive, in-memory associative approach, business users have experienced unprecedented success and satisfaction, backed by its unique 30-day money-back guarantee. QlikTech has more than 11,400 customers in 95 countries and over 800 partners worldwide. For more information, please visit http://www.qlikview.com.
About Templeton Consulting
Templeton Consulting focuses on translating business needs into technology solutions that enable companies to improve productivity, reduce complexity, and strengthen financial results. As a Microsoft Dynamics Gold Certified Partner, Templeton was also named into Microsoft Dynamics' President's Club (top five percent of all Partners). With a track record of successfully servicing manufacturing, financial, professional services, and construction industries, Templeton offers a comprehensive solution portfolio as well as the appropriate training and project management to ensure that benefits are realized rapidly with the least amount of risk. For more information please visit us.
# # #