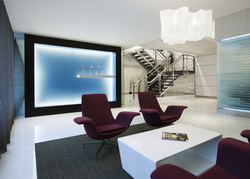 Wurk is all about more than renting flex office space
New York, NY (PRWEB) August 21, 2009
Wurk Environments, the first premium alternative to traditional office business centers, has tapped prestigious international architects Swanke Hayden Connell to design its first Wurksite. Two floors totaling 65,000 square feet at SL Green-owned 1515 Broadway, the imposing 54-story tower is situated in the heart of Manhattan's busy Times Square.
For Swanke, the project presented a unique opportunity to provide a dynamic and flexible multi-tenanted space. For Wurk, Swanke was a natural choice because it's outstanding o reputation and award winning portfolio.
More significantly, the Swanke connection corresponds with Wurk's ethos: namely to offer environments designed by world-renowned architects and designers, with interiors that reflect the personality and inimitable characteristics of the surrounding neighborhood. 1515 Broadway's interior spaces--the furnishings, lighting, layout, textures, and color scheme--are all designed inside to mirror the excitement of outside. Referred to as the 'Crossroads of the World,' Times Square is 24/7 packed with tourists, residents and business people frequenting the theatre, the restaurants, the movies, or just touring to experience the tremendous energy of an iconic world landmark.
"Swanke helped us realize and nurture our vision," said Gorguin Shaikoli, Wurk Vice President of Marketing and Brand Development. "We gave them imagery and our design concept and they took it to the limit creating atypical space with a bold design; space that actually makes a strong statement in terms of color, finishes and furniture. Conversely, traditional flex space, which never varies from site to site, is designed as plain vanilla with no accents--the rationale being that the tenant may imprint his or her taste in the space."
"We firmly believe that the time has come for distinctly-designed environments for flex users, created by signature architects, with amenities that include concierge services and cool common areas where tenants can network and interact," added Joseph DeTrano, Vice President Sales and Business Development, who said Wurk plans to open two more Manhattan locations this year, then export the concept to tier one cities nationally and internationally.
"Our idea at Wurk is that we are not about work in the literal sense. To the extent that we can, we want to provide an inviting environment, a space as comfortable and welcoming as home, so there's no desperate need to escape or retreat."
Some of the features of the new Swanke-designed Wurksite space, perceived immediately upon the opening of the elevator doors include; glass panels allowing expansive light to flow from perimeter offices into the interior offices; a boutique hoteling ambiance which, through colors, textures, and special niche spaces, invites social interaction. There are subtle differences between the 11th and 12 floors--the 11th floor is modern-chic, suiting media and entertainment types; the 12th floor is conservative-contemporary, designed to accommodate corporate, legal or financial services. There is also a lounge, aptly named Plā that tenants can rent for parties, events, conferences or other uses.
"What truly sets Wurk Environments apart from traditional business centers is its unmatched aesthetics and boutique amenities. With this, we have created not only a workspace, but a home for tenants to convene, meet, greet, relax, network and hopefully generate new business," said Hannah Dahlquist, IIDA, LEED AP and Senior Designer who led the Swanke team on the Wurk project.
There are 'Boulevards' on each floor, thoroughfares extending through the office space, accented by coffee niches which mimic bustling Broadway below. As you walk your way through the Boulevards, your senses are stimulated by the seating areas, the lighting, the ability to relax and converse with a co-worker or meet a co-tenant. It's the 21st century version of the watering hole--a common gathering center, a town hall, a village square, a place where people can take a break and network.
"Wurk is all about more than renting flex office space," noted Mr. Shaikoli. "We recognize, in this downturn, that many of our tenants will be downsizing from Fortune 500 interiors and expect a certain standard of work environment. We don't want them to feel penalized in their temporary quarters or to feel as if they are trading down. Our aim is to offer them the same quality of space they were used to, with the added advantage of giving them interesting and attractive common spaces that encourage socialization and networking. Swanke has helped us achieve precisely the kind of ambiance we envisioned for Wurk-Times Square, and so far we are seeing a strong response from prospective tenants, keen to move into cool space in one of New York's busiest commercial neighborhoods."
About Wurk Environments, LLC
Wurk Environments, LLC, the leading provider of innovative professional environments, specializes in premium, short-term flexible office space, conference and meeting rooms in addition to virtual office capabilities. Wurksites, located in prestigious metropolitan addresses and/or landmarked buildings in leading cities across the nation, are designed by world-renowned architectural firms. Each site is distinctly unique, crafted to capture the vitality and personality of its surrounding neighborhood, and tastefully appointed with the latest FF&E. Serving Fortune 1000 companies, governmental agencies and discerning professionals, Wurk supports and augments each company's growth and success via an array of business resources and state-of-the-art technologies. Additional information about Wurk is available at http://www.wurkusa.com and 212.660-3940.
NB: Additional photos available upon request
# # #