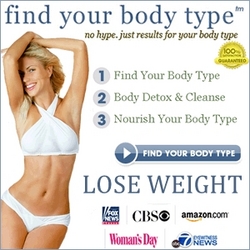 There is no hidden secret to losing weight, reducing pain or increasing energy - it is as simple as truly improving one's health
Alexandria, VA (PRWEB) August 31, 2009
FindYourBodyType.com is pleased to announce the launch of a new affiliate program with Commission Junction, managed by Paulson Management Group.
FindYourBodyType.com is backed by the research of best-selling author and founder of the Berg Institute for Health and Wellness, Dr. Eric Berg. In Dr. Berg's book, The 7 Principles of Fat Burning, a number 1 best-seller on Amazon.com, he looks closely at the hormone connection to how fat is burned. His goal is to educate people about how they can consistently achieve healthy, long lasting weight loss, regardless of their health stage or "body type."
"There is no hidden secret to losing weight, reducing pain or increasing energy - it is as simple as truly improving one's health," said Dr. Berg of his approach. "But there is one essential thing that is, more often than not, overlooked -- the fact that there is not one universal solvent that remedies every type of body. That has been the basis of my work."
Dr. Eric Berg, DC is a board certified Chiropractic physician who has conducted numerous research and development findings through his own clinical research. He is the CEO of The Berg Institute, a leader in cutting edge, natural health and wellness research and treatments. He is also an active member of the Endocrinology Society, and has taught as associate professor at Howard University. Dr. Berg has completed more than 23 physiological certification studies, is certified in seven genres of specialized health and wellness treatments, and has personally trained more than 2,000 physicians in the Medical community in his weight loss and pain management philosophies and techniques. His research and wellness discoveries have been featured in numerous radio and television specials (including both national and international), as well as thousands of publications. Dr. Berg's current research and studies undertake natural, lifetime solutions for both whole-body health management and preventative care.
There are four primary body types that Dr. Berg has identified, which is what FindYourBodyType.com focuses on. Each body type refers to a different gland-hormone weakness. The website offers a thorough multi-question health assessment quiz designed to determine which body type the user has. From there, the user can learn more about what his or her body type is, and what the triggers of that body type are. If users choose, they can also purchase supplements specifically engineered for their body type that detox, cleanse, nourish, and assist in burning fat.
FindYourBodyType.com believes that having the correct plan for each body type provides a much faster, and more importantly, effective way to keep the weight off. The website condenses much of the information provided in Dr. Berg's book, helping people change the way they look at calories, hormones, and fat burning so they can eliminate any guess work and achieve long-lasting results.
FindYourBodyType.com is launching an affiliate program to support their mission of helping more people achieve healthy weight loss. Spreading the word through a large network of affiliate partners, they hope to see more people than ever experience a healthy lifestyle. The affiliate program is being launched in Commission Junction, and is expected to be popular with health and nutrition affiliate partners. FindYourBodyType.com chose PMG to manage their program based on Paulson Management Group's strong reputation in the affiliate marketing industry, and their multi-team member approach.
To promote the new affiliate program, FindYourBodyType.com and Paulson Management Group are sponsoring a 52" Sony flat panel TV giveaway. For the first 300 sales, every sale that affiliates make through their affiliate links for FindYourBodyType.com entitles them to one entry into the drawing for the television. This means that every affiliate has the opportunity for multiple entries into the drawing, and more opportunities to win. The winner of the large screen TV will be announced once the program reaches 300 sales.
FindYourBodyType.com Affiliate Program Highlights
Multi-tier commission structure:

15% per sale
20% per sale for sales over $1,000.00 per month (Affiliate must maintain this sales rate to stay in this tier)
25% per sale for super performers
Cookie Duration

Paid Search Bidding

Trademark and brand no bidding allowed on the following terms Find Your Body Type, http://www.findyourbodytype.com, or Findyourbodytype.com! Direct linking okay, use of display URL okay, and deep linking okay!
Product Catalog

Paulson Management Group uses an online client services management application that ensures all strategies, and team tasks are transparent to client partners. PMG clients receive an RSS feed with daily team updates concerning tasks, milestones, and files that are produced each day in real time.
"PMG team members are very excited to be managing the FindYourBodyType.com affiliate program in Commission Junction," said Heather Paulson, Founder and President of Paulson Management Group, "We look forward to recruiting health and wellness affiliates to this program."
PMG Paulson Management Group, Inc Affiliate Management Highlights include the following:

PMG is the only affiliate management agency offering LIVE affiliate webinar training.
PMG is the only affiliate management agency producing affiliate videos and integrating merchant sales videos as part of the affiliate media lineup.
PMG uses Syntryx.com and has access to over 1.6 million affiliates to recruit to their managed programs. PMG also hosts an internal affiliate super list including more than 30,000 established affiliate partners for quick start recruitment.
PMG has exclusive affiliate network relationships and can offer deeply discounted network pricing.
In addition to an affiliate program, Paulson Management Group will also be managing a social media campaign for Dr. Berg. The social media campaign will include multiple channel management, including a blog redesign at DrBerg.com, Twitter and Facebook account management, and other supporting channels. The social media campaign for Dr. Eric Berg, and affiliate management program for FindYourBodyType.com, will mutually support one another with the common goal of reaching out and disseminating the vast information researched by Dr. Berg, and helping people reach their optimal weight through healthy lifestyle changes and nutrition supplementation.
Paulson Management Group, Inc. is a full service multi-channel, e-marketing management and consulting agency. Paulson Management Group, Inc is able to provide affiliate program management, paid search engine management, social media management and SEO management. Interested parties should call 800-384-7760 for more information on services offered by Paulson Management Group.
###