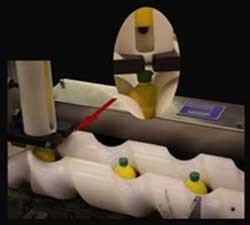 Glenwood, IL (PRWEB) August 21, 2009
Morrison Container Handling Solutions, a leading manufacturer of timing screws, change parts and drive units, will have their answer men demonstrate sustainable container handling solutions that maximize packaging line efficiencies for a wide variety of applications in Booth # C1227 at Pack Expo Las Vegas 2009, October 5-7, 2009 at the Las Vegas Convention Center, Las Vegas, Nevada.
Led by Engineering Manager Chris Wilson, Morrison's highly trained team of go-to engineers and sales professionals will share their knowledge and showcase Morrison's real solutions to real container handling challenges.
Morrison's design and engineering experience encompasses nearly four decades of highly reliable timing screws, change parts and drive units that provide excellent control, synchronization and throughput to eliminate product damage and waste, prevent slow downs and stoppages, reduce change-over time, and provide quick turn-around for all time-critical needs.
Morrison's timing screws and quick-change parts lead to greater line efficiencies for the most complex operations, and speed up changeover time for different container bottle shapes and sizes. Morrison custom designs drive units for new drive applications and to replace existing ones.
With more than 38 years of unmatched experience designing and engineering container handling systems, Morrison offers customers the best in problem solving, reliable products, technical expertise and customer service.
Morrison - Delivering Container Handling Solutions Since 1971.
For more information, please contact:
Morrison Container Handling Solutions
335 West 194th Street, Glenwood, IL 60425
708.756.6660 Fax 708.756.6620
Visit http://www.morrison-chs.com
# # #