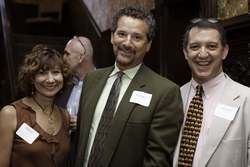 YouthBridge Social Entrepreneurship and Innovation Competition
St. Louis, Missouri (PRWEB) August 20, 2009
Community leaders, businesses, nonprofits and citizens came together on August 11, 2009 at Washington University's Whittemore House to celebrate the partnership renewal between YouthBridge Community Foundation and Washington University's Skandalaris Center. The purpose of the event was to announce the renewal of the agreement and the program's new name, "YouthBridge Social Entrepreneurship and Innovation Competition", the first-ever program of its kind in St. Louis and the largest in the United States.
The YouthBridge Foundation has made a significant difference in the St. Louis community helping thousands of children and scores of nonprofits annually. "YouthBridge is proud of the innovation and collaboration with the St. Louis community that has allowed us to positively impact the lives of so many children in need. Only with innovation, collaboration and the community's support could we accomplish so much," said Norm Moenkhaus, YouthBridge Executive Director. He thanked over 100 attendees from all sectors of the community including businesses, nonprofits, education and citizens, who made it possible.
YouthBridge has strengthened the sustainability of more than 300 nonprofit organizations, 12 of which participated in the event by displaying their work. Beth Ketcher from StudioSTL shared that she felt 'stuck' working out of a church basement and only able to serve 50 children annually. Since winning the $35,000 grant in the Social Entrepreneurship and Innovation Competition in 2008, StudioSTL has moved into its own space in the Centene Center for the Arts off Grand Boulevard, allowing it to grow, share space and collaborate with other agencies. They have published three children's poetry books, held book release/signing events, have 120 volunteers and were able to serve 800 children last year, far exceeding her 2009 goal. She thanked YouthBridge for their advice, wisdom and plethora of resources that made this possible for StudioSTL.
About YouthBridge Community Foundation
YouthBridge Community Foundation, founded in 1877, is focused on capitalizing children's charities. Our services are two pronged - to help children's agencies implement business practices to build productive capital and achieve sustainability and to help donors, or philanthropic investors, find stable charitable organizations in which to invest. Our strategy of building equity capital and promoting social enterprise is designed to attain our mission of building a network of strong, effective and sustainable social agencies to support disadvantaged children. Information about YouthBridge can be found at http://www.youthbridge.org.
About the Social Entrepreneurship & Innovation Competition
In July 2005, YouthBridge teamed up with Washington University's Skandalaris Center to create the first-ever St. Louis Social Entrepreneurship and Innovation Competition. This annual competition strives to motivate and educate the community in social enterprise concepts and processes. The contest is inclusive, engaging, fair and change-driven; provides an ongoing education to agencies; produces new entrepreneurs to help children; develops a framework for evaluation; causes ongoing social innovation that is measureable; and creates sustainable competition.
###